Lincoln Financial Field and the Philadelphia Eagles are ready to gear up for another exciting year of NFL football in south Philly as the Eagles look to repeat as the NFC East division champions. The $500 million facility first opened in 2003 after just two years of construction to replace Veterans Stadium, the former home of both the Philadelphia Eagles and Philadelphia Phillies. The Phillies have since moved across the street to Citizen's Bank Park.
A look at the Lincoln Financial Field seating chart shows the venue has a capacity of over 69,000, very similar number compared to Veterans Stadium but Lincoln Financial Field has double the number of luxury and wheelchair accessible seats. There are over 172 Luxury Suites in the seating chart located in six separate areas in the stadium with a total of 3,040 luxury seats. There are also two exclusive club lounges at the stadium where Suite Holders and club seat holders get access to these lounges. With over 10,000 club seats in the facility, these seats provide a unique experience for guests with multiple full service bars with a waiting staff to serve food and drinks.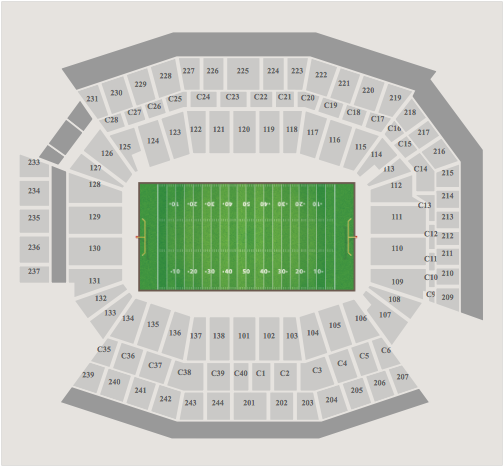 The Linc is also the home of Temple University football, was the home venue of the most recent Army vs Navy football game and The Linc has also hosted many soccer games throughout the years. The stadium will also host the 2015 NCAA Men's Lacrosse National Championships.
According to the Eagles, the team has sold out every game in the Linc's history and was the host of two NFC Championship Games. The Eagles have announced there will be some major upgrades to Lincoln Financial Field over the next two years. The renovation project will have an estimated cost of over $125 million. Some of the upgrades will include seating expansion, two new HD video boards, upgraded amenities, and two new connecting bridges for the upper levels.
The Eagles kick off their 2014 season on September 7 at Lincoln Financial Field vs the Jaguars. The average price for Eagles tickets in the secondary market at The Linc are not cheap this year but not the highest in the league either. But there are only three games currently on the Philadelphia Eagles football schedule with a current average price of under $200.