As one of only three teams in the NBA to have won at least 20 games so far this season, life is good for the San Antonio Spurs. Sure, things would be better if they were in first place in the Western Conference rather than third (behind Houston and Golden State), but when it comes to the business side of things, being third right now is just fine.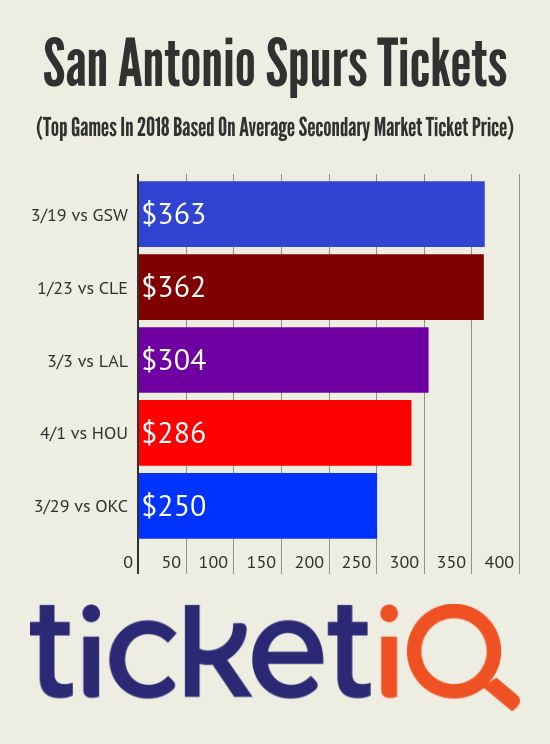 The Spurs, who have made the playoffs every year since the 1996-97 season and have won five NBA Finals during that span, command a pretty penny for tickets. This season, the average price for a Spurs ticket to AT&T Center is $181, the highest since TicketIQ.com started tracking data. Prices have been rising steadily since 2014-15, when they broke the $100 barrier ($119). San Antonio last won a championship in 2013-14, when it beat the Miami Heat in five games. Last season, the Spurs got to the Conference Finals, but were swept by the eventual champion Golden State Warriors.
With a third of the season complete, fans should prepare to spend $250 or more for the best match-ups. The highest asking price for a remaining game, according to TicketIQ.com, is $363 for the March 19 against the defending NBA champion Golden State Warriors. The Jan. 23 game against the Cleveland Cavaliers – who lost to the Warriors in the Finals – is a close second at $362.
The only other ticket with an average asking price above $300 is the March 3 Los Angeles Lakers game ($304). But it will cost fans $286 to see the Western Conference-leading Houston Rockets on April 1 and $250 to see the Oklahoma Thunder on March 29.
Whether you want to just get into the arena this season or grab a courtside seat, TicketIQ.com is your place to buy tickets. For many games this season, the asking price to get in is as low at $12. And among TicketIQ.com's Low Price Guarantee listings as of Dec. 13, tickets behind the basket on the upper level for the Warriors game could be had for $142 in Section 209 or courtside in Section 115 for $584.
[embedit cf="HTML1"]