Saints 2018 Ticket Market Overview:
The New Orleans Saints open the season at home Sunday against the Tampa Bay Buccaneers in a game that will be one of the cheapest of the season. Below is how Saints tickets prices stack up on the secondary market across the league. As you can see below, 2018 New Orleans Saints tickets are down 10% compared to last season, and are the fifth most expensive since 2011, when secondary ticket marketplace TicketIQ.com began tracking data. The most expensive ticket of the decade was in 2012, a year after the Saints won the NFC South with a 13-3 record and two years after they won the franchise's first and only Super Bowl. New Orleans won the South again last season with an 11-5 record.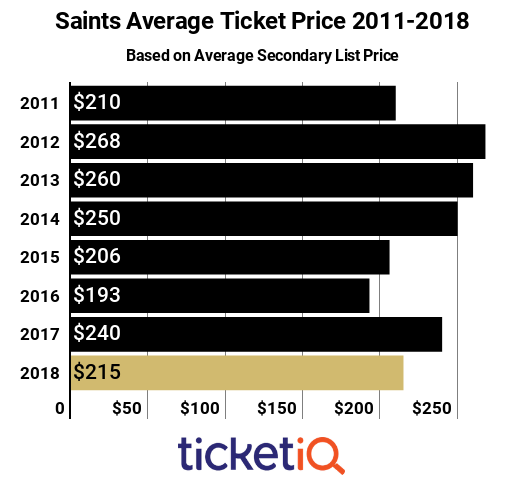 Where to Buy Tickets:
With the drop in ticket prices, Saints tickets are the 16th most expensive this season in the NFL. Veteran quarterback Drew Brees is working on his 17th season and, at 39 is hoping to follow in Tom Brady's footsteps and play into his 40s. There is a waiting list of 100,000 people for Saints season tickets, and fans can join the waitlist here. "Verified resale" single-game tickets are available through the NFL Ticket Exchange on Ticketmaster, but some sections are already sold out for the biggest games, including the November 18 vs. the Philadelphia Eagles. Also on the secondary market, a large selection of seats are available through secondary ticket marketplace TicketIQ.com, with the company's Low Price Guarantee.
Prices For Each Game on 2018 Vikings Schedule:
It's no surprise that when the defending Super Bowl champions come to town, a seat in the SuperDome will be tough – and expensive – to come by. The current average asking price on the secondary market is $364, making it one of two games with average prices above $300. The December 23 Pittsburgh Steelers game has an average asking price of $315. The Eagles and the Saints don't have a rivalry per se, but both teams have been in the post-season mix of late. They last met in 2015, when the Eagles won a regular-season game. Philadelphia holds a 17-13 series advantage. With the Saints coming off an 11-5 season, and the Eagles as defending Super Bowl champs, prices for this game have the potential to rise.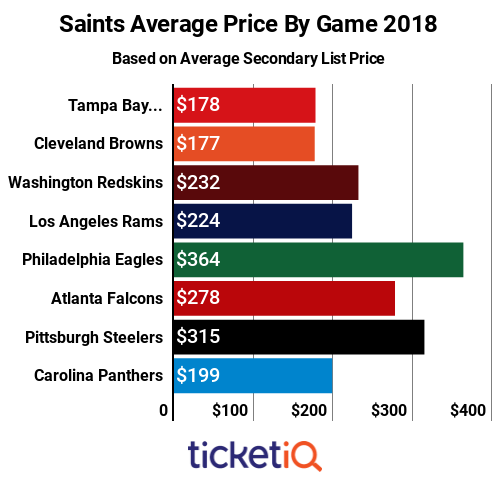 Real-Time Ticket Data and Listings: