With the NFL kickoff here, the post-waitlist era of Redskins ticket buying also arrives [WASH POST ARTICLE] With less than two weeks until the home opener, not only are season tickets available for sale, but so are single game tickets for every game, from the home opener against the Colts to the highest-demand games like the Cowboys.
The new approach to ticket selling--specifically actually having tickets to sell--is also impacting the secondary market. According to data from TicketIQ.com, Redskins tickets on the secondary market have an average asking price of $229. That's up 24 percent from last year's price and the second-highest price in the last eight years. With so many more tickets available for sale directly from the team, there's less supply on secondary, which sends up prices.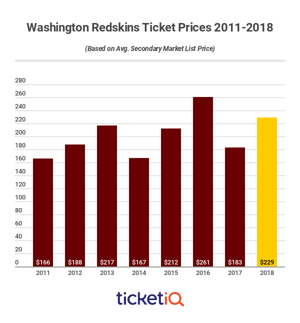 One important thing to consider this season is that all tickets to get into FedExField are eTickets, so you'll need to have the Ticketmaster app or the ticket saved on your phone to actually get in.

The Redskins are not completely ready to move away from the season tickets, however. In fact, they're using high secondary market prices to show how much money fans save if they buy season tickets directly from the team.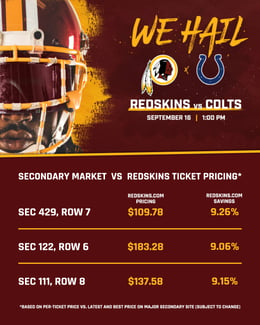 For the Redskins, who until earlier this year claimed a 20-year waitlist, this is a new and relatively brave model, and likely what the NFL envisions for the future of ticketing. While 2018 will likely mark the year the NFL jump into the single-game ticket selling business. It's a model that more and more teams are testing as well. Most notable of these was the Golden State Warriors in the 2018 NBA finals [SLAM ARTICLE] who did not sell out at the start of the game, as Darren Rovell also tweeted.
Like the Warriors last season, the Redskins this season have realized that they need to be selling when fans are buying. In 2018, that often means in the days and hours before a game. After playing catch-up with the secondary market for almost 20 years, teams are now even in actively playing in last-minute ticket-buy world that Stubhub, Gametime and other secondary sites created and perfected. Underlying the shift is the new Ticketmaster-NFL deal [AMP ARTICLE] that gives all NFL teams the ability to sell inventory directly on partner sites, including Stubhub.
For the full 2018 NFL ticket report, visit the TicketIQ blog.