2 Celtics Finals Tickets + Plane Ride from LA to Boston=One Lakers Finals Ticket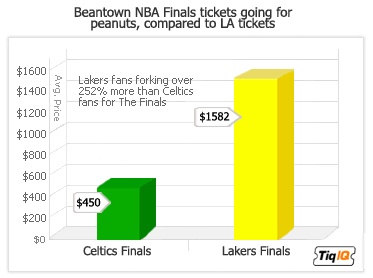 Here at TicketIQ, we love sports (obviously) and we also love to travel, so we figured that all the other people, especially Lakers or Celtics fans in LA, would be interested to know about a unique, money-saving travel package we've put together. It allows you to enjoy all the fun of a Finals game, at a fraction of the cost.


1


- One day and one night in Boston: $299
- Two tickets to the see the Lakers/Celtics in The Finals at TD Bankworth: $900
- A Round trip ticket from LA to Boston: $487
- Total Price: $1686, or $104 more than ONE ticket to a game at the Staples Center.


1


Price of seeing a Lakers/Celtics game in the NBA Finals: Not quite priceless, but pretty cool.