The G20 is one of those global-conspiracy organizations that we've never fully understood. Other than the fact that they like to shoot rubber bullets and water-cannons at their protesters, we're basically in the dark.
1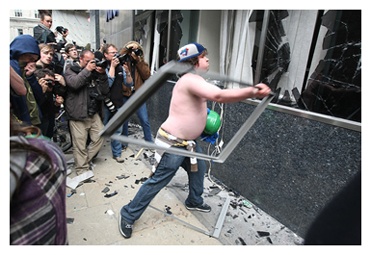 Given our general curiosity, and the G-20s generosity in moving this weekend's Phils/Jays series from Toronto to Philly, we decided to do a little investigative journalism to better understand who exactly we have to thank, and also use the opportunity to introduce Fightins Tickets. Here's what we found:


"G-20 is the premier forum for international economic development that promotes open and constructive discussion between industrial and emerging-market countries on key issues related to global economic stability."
1
We also found a picture of an early protester who was apparently angry at being denied his 4 hot dogs and 5 beers at the game. In Philly, they'd just Taze this guy and be done with it. As you ponder that, here are some other things to consider about this weekends' series:
Q: Do these games count toward the Phillies 74-game home sell-out streak?

A: No. These are full-on Blue Jay home games: Phils in road gray, Jays bat last and a DH used by both teams (Paging Mr. Stairs, Mr. Matt Stairs).
1
Q: Will there be a southward migration of refugee Blue Jays fans who, having just emerged from their winter hibernation, go to the ballpark, find out the game has been moved, and proceed to drive 530 miles to Philly?

A: Tough one to call, and we're predicting only a slightly-higher than average number of Jays hats for the series, which, in case you're wondering is .00229%, or 1/43,367. Despite the circumstances, its a rare sighting, so if you see one, or anything else interesting for that matter, send pictures.
1
Q: What's the impact of this international incident on ticket prices for the series?

A: Prices for the series are below the season average for each game, and there are some good deals to be had each night. We've noted below a few tickets below that aren't showing up correctly. Other than those, buy away!
1
Game 1, Tonight, 7:05:
Tickets to see Roy v. Jays, All TiqZones
(Ignore the $1 or $2 tickets in section 107 and the $5 ticket in 310.) 1
A bunch of tickets under $50 in TiqZone Baseline.
1
Game 2, Saturday, 4:05:
Tickets for all TiqZones
(Ignore the $1 eBay ticket in section 107 and the $23 eBay ticket in section 421)
Still a few under $35 in TiqZone Terrace
1
Game 3, Sunday, 1:35:
Tickets for all TiqZones
(Ignore the $1 eBay ticket in section 107)