After one of the most impressive debuts in recent memory, the baseball world is ablaze with Strasburg-mania, bringing back wistful 80's memories of Fernando and the last pitcher-induced mania to sweep the country. Next stop on the tour: Cleveland.
1
The Indians, who are averaging a league-low 15,527 fans per game, have sold 4,300 tickets since it was announced the Cleveland would be the second stop of S-Burg's AAAA tune-up tour. With a week to go, attendance may crack 25,000 fans, which would be 57% capacity at the Jake….not bad for a team with a .379 winning percentage,
1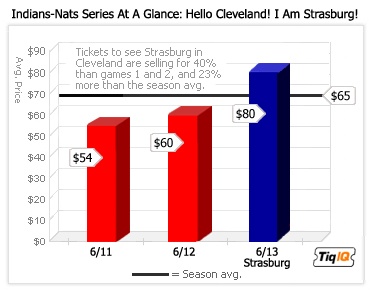 1


Unfortunately for Strasburg, at some point he'll need to face a major league team other than the Pirates or the Indians, who have the two worst records in baseball. Once he starts facing tougher competition, we'll see how close he comes to Fernando's 8-0 start: a start that included five shutouts and a baffling 0.50 ERA.


1


For now, though, the mania grows and Cleveland fans have a reason to buy tickets again, if only for a day.


1


For tickets to Strasburg's second start against the Tribe, click here.