For the first time since last November, the Yankees and Phillies will square off in a World Series rematch at Yankee Stadium. Here's are the pitching matchups:
1
- Game 1: CC Sabathia vs. Roy Hallday
- Game 2: A.J. Burnett vs. Jamie Moyer
- Game 3: Andy Pettitte vs. Kyle Kendrick
1
On top of three pretty good matchups, highlighted by the CC-Halladay opener, the weather reports should be beautiful, and these are two of the most popular teams in baseball. Last year, this was one of the most sought after and expensive series of the season for the Yankees, but this year things are a very different:
1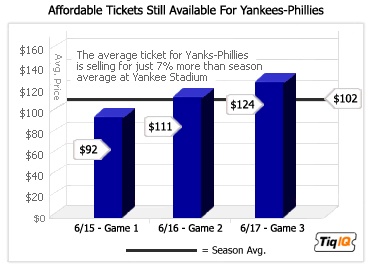 With tickets to the Subway Series later this weekend in the Bronx selling for an average of $170 bucks, spending $80 less to see Halladay start against CC in his first post-Jays visit to YS, could be the deal of the season.