In his likely-HOF career, Alex Rodriguez has been linked to immense achievement, notable ignominy and three teams. If he reaches his latest milestone of 600 HRs this week, it will cement his link to a fourth.
1
With 25 cracks at 600 over the next six games, and a 14.4 career AB/HR average, the ticket market is betting that A-Rod will reach 600 on Saturday against the Royals. It's the same team that helped him launch #1 and #500. Are ticket buyers interested? Prices for Saturday are 36% above the homestand average of $85, but still safely under the season average of $120.
1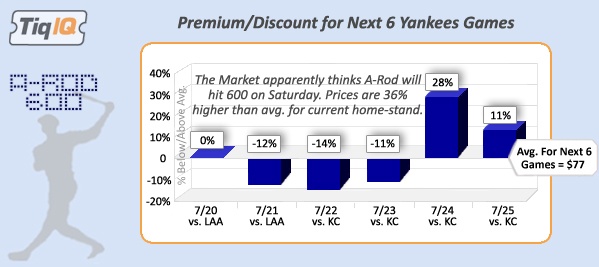 1
After the Yankees emotional week that was, and the drawn-out pursuit of 600, the above prices suggest that interest is surprisingly low for a chance to literally catch a piece of baseball history (see chart below). Nevertheless, if he reaches 600 before the Yankees' head to Cleveland on Sunday, it will bring a proud cheer to the House that George Built, and mark the first meaningful post-Boss moment in the Bronx. It will also firmly establish the Royals, once a great Yankee rival, as A-Rod's career whipping post. Whether he hits it off of Kyle Davis (4-6, 5.57 ERA), Tony LeRew (1-3, 7.56 ERA), or a no-name, no-numbers July call up from Omaha, it will also reinforce the haters claim that, despite the numbers and the ring, A-Rod hits 'em when no one cares.
1