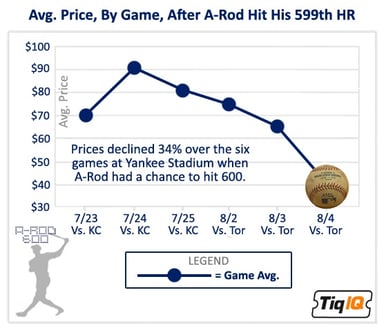 A-Rod hit his 599th homerun on July 23rd. He finally connected for 600 yesterday. While separated by only 13 calendar days, the gap between 599 and 600 also contained 46 At Bats, four different opposing teams and 103 specially-marked 'A' balls. For Yankees' fans, the wait felt like an eternity, and relatively speaking, it was. Willie Mays, who was the next slowest, did it in 21. The Babe did it in one.
1
Over the course of his prolonged pursuit, interest from fans also waned. The Average price for the first Yankees' home game with A-Rod at 599 was $71. After four home-games and one road-trip, the average price for the chance to witness baseball history was $46.
1
For A-Rod, the thousands of popping flashbulbs that captured every pitch and swing had clearly become a burden. Prior to the homerun, he had been mired in a 1-for-20 slump that had a few wondering if he'd still be the youngest man to hit 600 when it actually happened. When it finally did, on a 1st Inning, 2-0 pitch from Shawn Marcum, the weekday afternoon crowd was barely in their seats. As 'A-104' came to rest in the netting above Monument Park, A-Rod rounded first base with outstretched arms, as if asking the baseball gods 'what took you long'?
1
As long as the wait seemed, it's over now and Rodriguez stands alongside Bonds, Aaron, Ruth, Mays, Griffey and Sosa in the canon of homerun heroes. Some will argue that, along with Bonds and Sosa, A-Rod's 600 shouldn't count the same as Ruth's, Mays' and Griffey's. Regardless of the performance-enhancing discount one applies, though, 600 is an achievement worthy of significant recognition. For anyone able to catch yesterday's August afternoon ballgame in the Bronx, it was also probably worth the $46 bucks (on average).