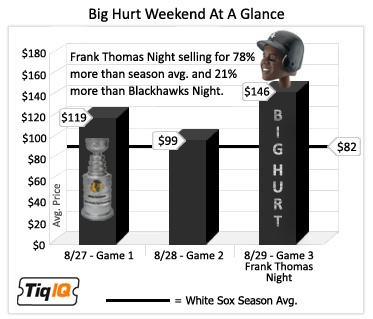 Tonight begins a pretty exciting weekend for the White Sox. Not only are welcoming the Yankees to town for the first and only time this season, but Sunday is Frank Thomas Night.
1
In 16 seasons with the White Sox, the future Hall of Famer hit .307/.427/.568 with 448 HR and 1465 RBI. He also won two MVP's and was part of their 2005 World Championship team. He was the face of the franchise for almost two decades and clearly, fans on the Southside are excited to honor this White Sox legend.
1
Tickets to see Thomas' no. 35 retired are selling for 78% more than their regular season average, and 21% more than Friday's game when they are honoring another Chicago favorite, the 2009-2010 Stanley Cup champion Blackhawks.
1
For tickets to any of the three games against the Yankees, click here.