How Much does a Free Ticket Cost to See the Tampa Bay Rays?
As the Tampa Bay Rays march toward the best record in baseball and their second post-season appearance, fans have not followed them through he gates. The first-place Rays rank 22nd is attendance, ahead of only cellar-dwellers like the Nationals, Orioles, Indians and Pirates. After only 12,000 people showed up for a potential playoff clincher last week, David Price and Evan Longoria, the faces of the franchise, publically expressed their frustration.
1
Starring down a PR nightmare, the Rays responded quickly by announcing that they would offer 20,000 free tickets to last night's game against the Orioles. The move was unprecedented for a contending team, but it seemed to work as the entire allotment was exhausted 45 minutes before the first pitch and attendance for the game was 36,973--a sell-out, if you can call it that.
1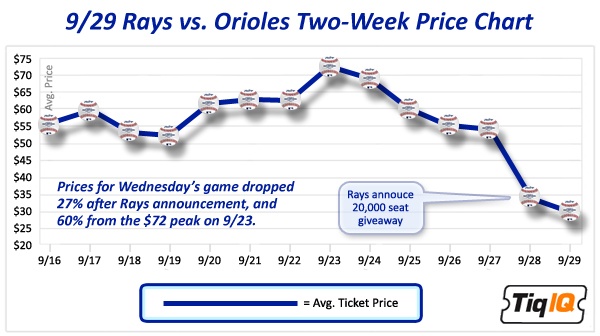 1
While the move has to be called a success, you'd expect that sellers trying to move tickets for actual money were less than thrilled. Just a week ago, tickets for the game were going for $72 across the secondary market. As the Longoria and Price comments picked up media steam, the price declined steadily, to $55 the day before the free-ticket announcement. After the announcement, prices dropped another 27% and settled at $30, 60% off the $72 high.
1
While such poor attendance for a championship caliber team is puzzling, the demand curve for small-market sports teams has always been somewhat fickle. Even more puzzling, though, is why prices didn't drop to $0, or close to it, the day the giveaway was announced. Come game time, though, every seat was filled. Maybe sellers who held out on dropping prices to zero thought that, contrary to conventional economic wisdom, 20,000 free tickets would actually create demand--maybe just enough for fans to pay them actual money to see the best team in baseball.
1
For Rays ALDS tickets, click here.