Opening football weekend is an important right of Fall, and cause for celebration amongst millions of American men. Football season brings purpose back to the couch, and whether that purpose is day-drinking or obsessively checking your fantasy scores, Sunday's are a whole new ballgame from September to December.
1
For the 2010 opening weekend, American men, and a few women, found their purpose at an unprecedented level. 27.5M people tuned in to the Thursday-night rematch of last years NFC Championship, making it the biggest prime-time audience since 31.5M people watched the Cowboys play the Packers on a Monday night in November, 1996. While a lot has changed since then, the losing quarterback did not, and Brett Favre now has one more ignominious distinction to add to his resume. The Sunday national game on Fox was also a record-setter. According to Nielsen, the 28M people that tuned in to see the 4pm Eagles-Packers game was the most-ever for a Sunday afternoon game on the opening week of a season.
1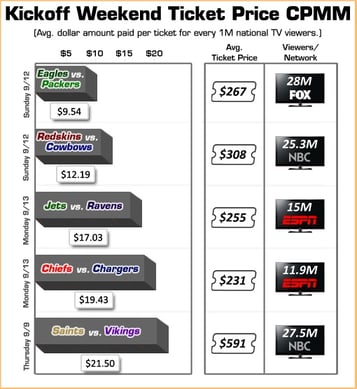 While great news for networks, at TicketIQ we were interested to see how this couch-driven demand impacted the price of tickets to the actual games themselves. To do that, we came up with new metric called Ticket Price CPMM (cost per million). Ticket Price CPMM quantifies the intersection the two biggest interest indicators for a game: TV viewership and ticket price. It is calculated as follows: CPMM= Average Ticket Price/(TV Audience/1,000,000).
1
By this measure, the Eagles-Packers game was the best deal at a $9.54 CPMM, while the Saints-Vikings was the worst at a CPMM of $21.50. To the credit of Fox, NBC and ESPN programmers, all five of the nationally televised games were amongst the top 10 in ticket prices. The Saints-Vikings was number one with a $591 average price. The locally televised Giants-Panthers game was a distant number two at a $388 average price--even the opening of a new stadium could not compete with the championship enthusiasm of Who-Dat nation. After all the Hard Knocks bluster, the Jets first game at the New Meadowlands came in a lowly ninth, at $255. The top 10 was rounded out by the Chiefs-Chargers game, which cost an average of $231 and took place in the newly-remodeled Arrowhead.
1
While our ticket price CPMM says the Eagles-Packers game was the best value, Eagles fans who left the Linc disappointed by their opening week loss, probably didn't share that sentiment. On the flip side, for Saints fans who marched out the Superdome with a Superbowl Championship banner and another win over Favre and the Vikings, $591 may have seemed like a bargain.