America Pays Up to See Their Team on Sundays
Despite their slow start, The Cowboys are still a big draw on the road. Sunday's match-up with the Vikings, however, is only the 7th highest premium. The combined 2-6 records is partly to blame, and only the Packers and Eagles fan pay less of a premium to see the Cowboys play.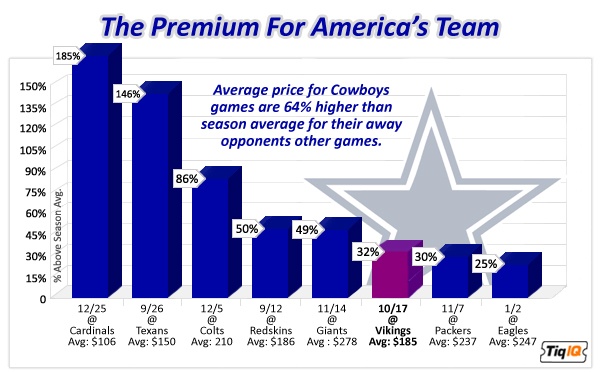 The other NFC East rivals don't have the highest premiums either, however, their prices are high to begin with. As for the Texans' 146% premium, it was only the 2nd time the Cowboys have played in Houston, and it was also a statement game for the new franchise on the Texas block.
The Cardinals 185% premium is due in part to their $106 average, the lowest of any Cowboys opponent. It also may have something to do with the reality that Arizona is where America goes to retire, and when they do, they want to see their team play football on Sunday.
For tickets to any of the remaining games from this chart, click on the links below: