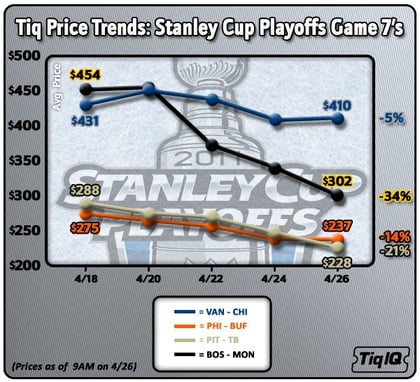 Even though no one really thought it would come to this, game 7 of the Vancouver-Chicago series is the most expensive game 7 ticket in the NHL Quarterfianls, with an average of $418. Despite the morbid turn this series has taken for Canucks fans, the average price has dropped just 5%, compared to 23% for other game 7s. If the Hawks can pull out a win, Canucks fans would be witness only the 4th time an NHL team has overcome a 0-3 deficit to win a series.
As for the Flyers-Sabres, it's a series teeming with storylines. From the photos that surfaced of Sabres coach Lindy Ruff's daughter wearing a Flyers lid (via Crossing Broad), to the Philly's revolving door between the pipes, this series has had drama befitting of a 7-gamer. At an average price of $237/ea, the game is acutally down 14% over the last week but still 21.5% more expensive than the three previous Flyers' home games.
As for the Penguins-Lightening, the Crosby-less Pens, who have lost the last two, limp back to Consol Enengy Center and can take small solace in the fact that local favorite Jeff Jimerson will sing the national anthem (via Pens Blog) Despite the two consecutive losses, tickets at Consol, as always, are in high demand. The avg price of $228 is the least expensive of all game 7s, but with only 500 tickets available, it is also the game with the least available inventory.
In the last of the game 6's, the Habs and Bruins matchup tonight in Montreal. If Bruins can't take care of business on the road Tuesday, this "Original Six" matchup will head back to TD Garden for a game 7 that still boasts a steep $301 avg price despite being down almost 35% this week.
For tickets to these game 7s, or any other Stanley Cup playoff games, click here.