The Top 20 Sports Teams, by Social Media Followings, and their Geopolitical Consequences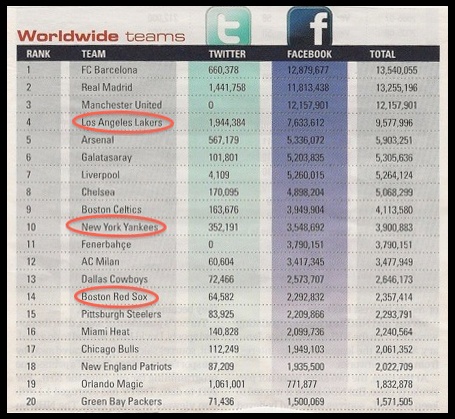 Last week, SportsBusiness Journal published a list of the 20 global sports teams with the largest social media followings. Even to the most international of citizens, it may come as somewhat of a surprise that only three of the top ten followings are for teams located in the U.S. Amongst those teams, the Lakers lead the way with 9.5M followers, trailed distantly by the Yankees at 3.9M.
If one-to-ten feels a little fuzzy and foreign, 11-to-20 should make you feel closer to home, with only two teams residing outside the U.S. The first of those is Fenerbache S.K., which just edges out AC Milan for the 11-spot by a count of 3.7M to 3.4M. If you're wondering who and where in the world is Fenerbahce S.K., it turns out they're the Yankees of Turkish soccer, and the only Muslim-nation team in the top 20 list. The Yankees--the epitome of North American sporting royalty--have won 27 titles, 3 more than the Canadians. Fenerbahce, by comparison, has won 87--yes 87!-- 'official' Turkish football club titles. Assuming they started keeping records sometime after the fall of Ottoman empire, 87 titles seems well deserving of a social media following greater than The Red Sox, Steelers and Cowboys. Keeping Fenerbahce company in 11-20 are two, very new-world, Floridian basketball teams--the Heat at #16 have 2.2M followers; and the Magic at #18 have 1.8M.
At TicketIQ, we're guessing that it's the first inning of sports social media. Within 15 years, the Yankees, Lakers and a handful of other teams will have followers numbering well north of 20M. As for Fenerbahce S.K, with the way the world is moving, in year 2025, they may be one of many Muslim-nation teams in the top 20. For their own sake, they also better keep winning. As recent events have shown, history--even a history that spans 87 championships--is no match for the power of an enthusiastic army of social media followers.