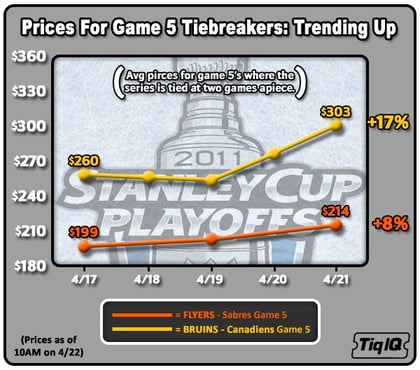 Fast-paced action, hard hits and the drama of sudden death make the NHL playoffs one of the most exciting sporting events to see live. For series where the home team has the opportunity to clinch in 5 games, however, it seems fans would rather wait for the next round. When game 5 is a critical tie-breaker, prices have gone up since the series started.
As our graphics show, the three series where the home team has a chance to clinch in five are down an average of 10.3% since the beginning of the series. When game five is an important tie-breaker, prices are up an average of 12.5%.
With their first chance to close out a series in five games since 1998, Capitals fans lead the way in indifference. Since the series started, prices to game 5 have dropped 13%. The average price to get into see the clincher is now a manageable $243, and tickets can be had for as little as $121. As for the possibility of a dramatic game 7 at the Verizon Center, prices remain high, averaging $356.
With their frustrating playoff track record, you'd think Caps fans would prefer not to see it come to a game 7, but if it does, the market says they're willing to pay the price to see it first-hand.
(*Canucks - Blackhawks are now headed to game 6*)
For tickets to any Stanley Playoff game
s, click here.