The Boston Premium For The Finals: 2010 Celtics vs. 2011 Bruins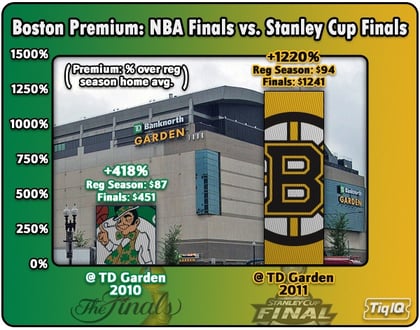 This season the Bruins have reached the Finals for the first time since 1990 and the 1220% Finals premium for this series proves that Boston fans are ready for a Stanley Cup title. From another perspective, fan frustration from 38-year drought has increased the series premium at a rate of 32% per annum (or an alarming 58% annually since their last finals appearance). Almost 40 years in the making, this premium trumps the 418% Finals premium for the Celtics/Lakers series last year. In recent years, the city of Boston has been no stranger to Championship teams and the city's notoriously rabid fans have been more than willing to pay a steep premium to see their teams compete for titles. The Patriots had their improbable march to Super Bowl XXXVI in their first of 3 titles; the Red Sox finally "reversed the curse" with their scintillating playoff run in 2004 and added another World Championship in '07 for good measure. However, the Boston franchises with a prouder tradition of championships--the Celtics & Bruins--had fallen on hard times until Danny Ainge assembled "The Big Three" and the Celtics took the 2008 NBA title--their 17th. The Bruins themselves own 5 Stanley Cups, but its been since '71-'72 (38 years!) since Bobby Orr and Co. hoisted the Cup in Boston.
For tickets to this year's Stanley Cup Finals, click here.