Handicapping DJ3K: If Mystic or Aura have a vote, it may be tonight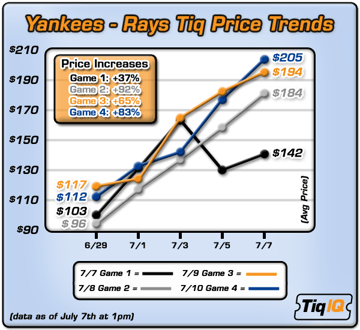 With three left to 3,000, Yankees fans and baseball fans alike are focused on Derek Jeter and the four-game series that opens tonight in the Bronx.
As Jeter tries to create history in the house that George built, the market is betting heavily he'll do it tomorrow night. Prices for Yankees tickets for Friday's game are selling for an average of $182 vs. $142 for tonight. If one still believes in the mystic and aura of Yankee stadium--even after Shilling's bloody sock--tonight may be worth taking a flyer on. Tonight pitching matchup features Jeff Nieman vs. resurgent Bartolo Colon. Jeter has already made some history with Neimann, having passed Gehrig as the all-time Yankee hit leader against him last season.
If you don't believe in Yankees' karma, though, the numbers also say tonight may be a good bet--righties hit .312 vs Neimann and he carries a bulky 5.05 ERA. As for 4pm ET, $30 also gets you in to the park for first pitch, whereas tomorrow you'll be lucky to get in for less than $100.
For a chance to see Jeter make history, click here.