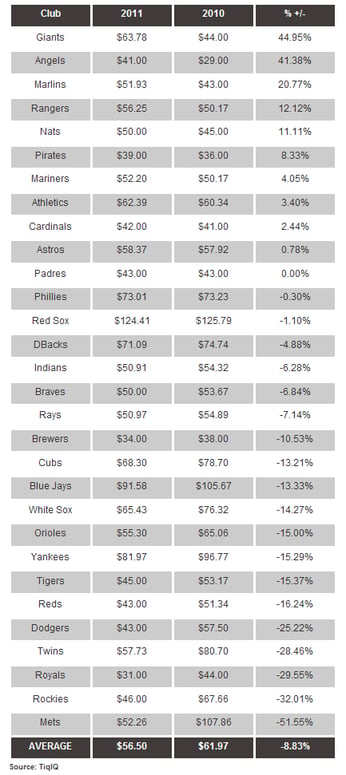 Maury Brown of The Biz of Baseball featured some TicketIQ data in an article he penned today highlighting the change in ticket prices around baseball since last season. The World Champion San Francisco Giants saw the highest increase, a 44.95% jump since last season's prices. Thanks to the Madoff scandal, the New York Mets, on the other hand, saw ticket prices on the secondary market drop 51.55% this season, the biggest decrease in prices around the league. Here's some more from Brown:
"Overall, the average ticket price heading into the second half of the season is down almost 9 percent from 2010.

...

"In terms of overall price, while the club sees a slight decrease from last year (just over 1 percent), the Red Sox still lead the way with the average resale price of $124.41 heading into the second half of the season. You have to go all the way back to the Blue Jays ($91.58) to get to the second highest. The Yankees ($81.97), Phillies ($73.01), and D-Backs ($71.09) round out the top 5.

"In terms of bang for your buck, the Royals at just $31.00 on the resale market are the lowest priced team, But the real bargain is the second lowest priced team, the NL Central leading Brewers who have an average resale price of just $34.00. They're followed by the surprising Pirates ($39.00), Angels ($41.00), and Cardinals ($42.00)."
To read the rest of the article, click here.