Top 5 Priced Games of the 2011 NFL Season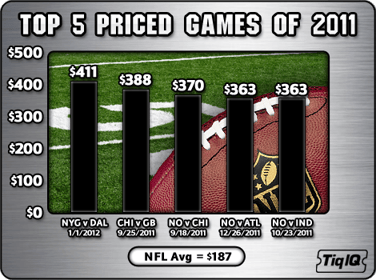 With the NFL Lockout over, it is time to start getting ready for meaningful football soon. If you thought fans might have been upset regarding this prolonged Lockout, think again. NFL ticket prices as a whole on the secondary market are up 22.74% to $186.62 from 2010's average of $152.04. The top 5 games for this upcoming season include:
This steep increase in price could be attributed to factors such as higher prices on the primary market and fans continuing support/attraction to the game. Although ticket prices are up over 20% right now, it should be noted that most sports event tickets drop in price as game time approaches. So we believe that ticket prices should drop over time, but fans will still have to pay a hefty price for tickets for games this season.
For tickets to any of these games, click here. For all NFL tickets, click here.