Yanks-Rays Tiqs Up 57% As Jeter Inches Closer to 3,000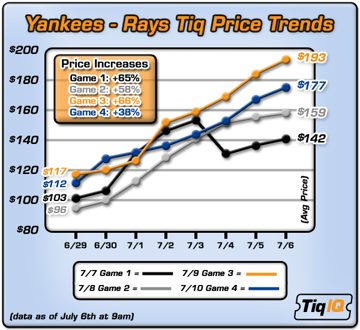 For weeks, Yankees fans have been hoping that Derek Jeter would reach his historic 3,000th hit at home. Barring a 4-hit night tonight against the Indians, Yankees fans will get their wish. After tonight's game the Yankees' are back in the Bronx for a four-game series with Tampa.
Since Jeter came of the DL, prices for the Tampa Bay Series are up significantly. Since June 29th, prices for this series have jumped 57%, from an average of $107 to $168, with games 1 and 3 of the series showing the biggest increases overall. The chart below details movement over the last week.
We expect tickets to continue to go up until the milestone is reached, so if you would like a chance to see some history in the Bronx, you might want to click here before tickets are $200 apiece or higher.