UFC 133 Price By TiqZone Breakdown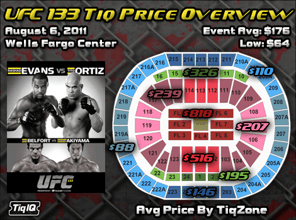 UFC 133 is coming up this Saturday in Philly, but are fans excited? The average ticket price for this event is $161, which is 8.8% higher than UFC 131 in Canada. Neither of these compare to the average prices for the last two UFC events in Las Vegas which went for over $330 a pop. This brings up the question, is the popularity of the UFC waning a bit? I wouldn't go that far, but it is still interesting to see the premium for those events recently that have taken place in Las Vegas, compared to other cities who are getting their first taste of live UFC fighting.
With stops in Brazil and Denver upcoming it will again be interesting to monitor how pricey it will be to get into these major events.
For tickets to UFC 133, click here.