When it comes to winning, Texans have always prided themselves on being just a little bigger and better than everyone else. Over the last year, Texas sports has been just that, with three finals appearances and one title as evidence of their dominance.
At TicketIQ, we're always interested in the value of winning--or the prospect of winning--and so we decided to compare the last three final appearances for Texas teams to their season average for that year. As the above below graphic shows, at 2082%, last year's World Series was almost double the premium for this year's World Series. This time around, Rangers fans seem slightly more reserved in their spending, with an average series price of $908 compared to $1,244 in 2010.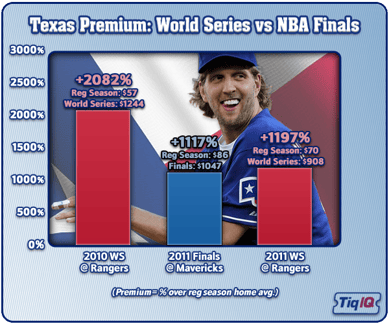 At 1197%, this years premium is just 6% higher than the premium that helped bring the Mavs their first NBA title. Despite an average series price that is 30% lower than last year, tickets are far from cheap. That said, there are lots of good options for Sunday and Monday's games around $300, and even some eBay auctions selling for under $300.
If the Rangers do bring home their second major sport championship in the last 6 months, it will unequivocally establish Dallas as the center of the sports universe early in the '10 decade . For those Texans who enjoy being the biggest and the best, that's something that you just can't put a price tag on.