With CP3 Aboard, Clippers Now A Hot Ticket Across The NBA
The story of this shortened NBA offseason has obviously been the Chris Paul saga. Originally, he was all ready to join up with Kobe and the Lakers, but then David Stern, in all his tyrannical wisdom, killed the deal. Then, finally, after many days of rumors the Hornets were able to get a deal the owners wanted and shipped CP3 off to LA, but this time to join up with Blake Griffin and the Clippers.
With the CP3-Griffin combo, a new "Lob City" was formed, immediately turning the Clippers into one of the most exciting teams in the NBA, and Clippers tickets into one of the hottest in the NBA. Prices to see the Clippers come to town have also seen a major boost--up 10%--since the trade, with fans across the league buying up their seats at a rapid pace. Below, you will find the top 5 priced Clippers road games of the year.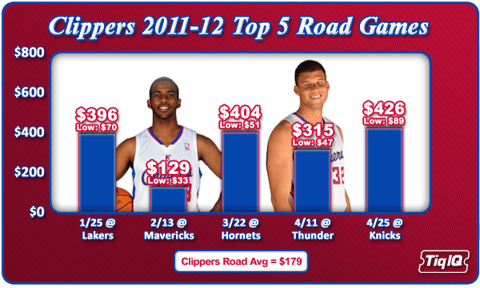 If you'd like to see your team take on CP3, Blake Griffin, De'Andre Jordan and the rest of the high-flying Clippers, click on the ticket link below.