NFC Crushes AFC in Conference Championships Price Battle
It's been 14 years since the 49ers last played in the NFC Championship game and, as a result, tickets for this weekend's game are in very high demand. The Giants-49ers game is currently selling at a 451% premium to the 49ers regular season average. Fans in New England, on the other hand, are used to January Football, and are only paying a 60% premium.
Perhaps part of the 7x Niners premium has to do with the fact that San Franciscans were not expecting another home game. When the Giants pulled off the upset in Lambeau, though, fans got an unexpected opportunity to see the Niners play at home for a trip to the SuperBowl. After the Giants win, the average price jumped up to an average of $657. In the last 4 days, the price has come down to $639, or 61% higher than the AFC Championship game in New England.
After the Giants won, over 8,000 tickets flooded the market for the NFC Championship. However, in the last several days ticket have been selling quickly, and there are now under 2,400 left. For the AFC championship, less than 750 tickets are available.
If you're looking ahead to the next step for your team, SuperBowl tickets are also available. Currently, the average price is $4,035, and you can get-in for $2,350. As the below chart illustrates, though, the market has fluctuated quite a bit over the last week and quantity is up almost 5x since the end of the divisional round. There are currently almost 1,700 tickets available. While already mortgage-payment expensive, the fact that the Packers—the only team within driving distance of Indianapolis—will not have a chance to defend their title may be keeping prices a bit lower for now.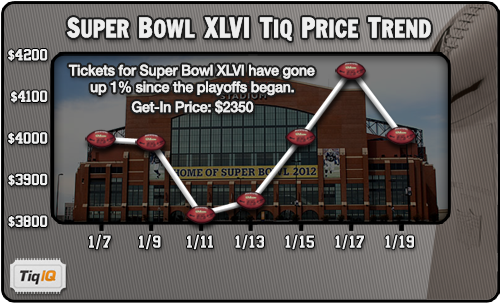 For tickets to either of the Conference Championship or the Super Bowl, click the button below. Follow @TicketIQ on Twitter for the latest price updates to all three games.