After a Sunday of drama-filled Conference Championships, the Super Bowl XLVI match up is set, and the New York Giants and New England Patriots are headed to Indianapolis. Behind two memorable kicks, the New York-Boston rivalry is set for another epic installment.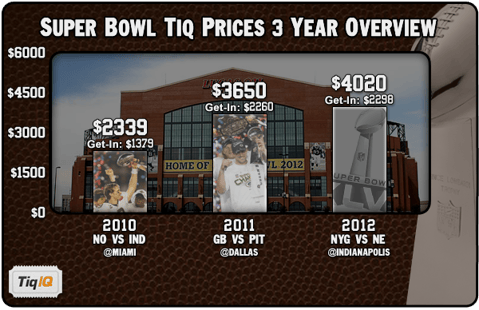 In all their excitement about this Super Bowl XLII rematch, fans and sellers have made the 2012 edition the most expensive Super Bowl in three years. In the 12 hours after the Giants won the NFC, prices climbed 8% alone. At a whopping $4,020 average price, prices are 10% higher than last year's Packers-Steelers game in Dallas, and 72% more than 2010's Saints-Colts match up in Miami. With 30,000+ less seats available at Lucas Oil Stadium than Cowboys stadium, we don't much price softening this year leading up to the game.
Prices range from $2,298 for 22 rows back in the 600s corner section, to $14,707 for 1st row seats at the 50. There's even an $600,000 luxury suite available, which is roughly the same price as a 5,000 SF mansion in Indianapolis. For those not looking to take out a mortgage to attend this years Super Bowl, the get-in price of $2,298 is currently just over last-year's get-in of $2,260.
As for the other ticket you'll need to get to Indy, flights from NYC and Boston have gone up over 250% in the last week, according to Bing Travel, and both routes will cost above $1,000 for a round-trip, coming back Monday. The good news is that Bing predicts both will come down between $100 and $400, with confidence rating above 75%, so hold tight if you dare. As for the last piece of the equation--a room--there is little chance of finding a hotel at this late stage, however, there are 13 listings on Craigslist Indianapolis that range from $400/night up to $4,000 per night. If none of those work out, however, you can always see if the person buying the $600,000 suite has any extra floor space where you can crash.
For tickets to what is sure to be another classic, click on the tickets button below and follow us on @TicketIQ for daily updates and deals.