XLVI Ticket Price Post Mortem: Get-in 54% less than XLV. Price dropped 32% in 5 days before game
Super Bowl XLVI lived up to the all hype and then some as the Giants and Patriots faced off in another classic. Four years removed from their 17-14 win in Super Bowl XLII, the Giants once again got the best of Brady and the Pats, this time winning 21-17.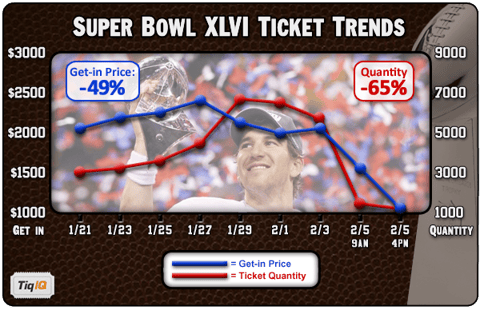 Based on the above chart, fans that waited to buy until the last minute were rewarded with bargains. The get-in price dropped over 56% in the 5 days leading up to XLVI with the average price dropping 32%. At game-time, upper level seats were selling for right around $1,000, which was 56% below the get-in price last year.
For XLV, Steelers and Packer fans alike flocked to Dallas. This year, however, interest was lopsided. In the days leading up to the game, we saw 500% more traffic from the Tri-State area than from Massachusetts. Perhaps it was the shorter drive (12 hrs vs. 15 hrs), or just a case of championship fatigue in Boston (poor Bostonians), but Patriots fans were significantly less interested in the game than Giants fans.
As for the most active buying windows, we saw 61% of tickets sell in the 5 days after teams were set and 27% in the 48 hours before the event. Because so many brokers attend the Super Bowl themselves, last minute logistics were easy to manage.
We're already looking forward to The Big Easy in 2013, and can't wait for opening kick-off in September.