After Going Up 93%, Thursday's Giants-Panthers Game is Week 3's Top Ticket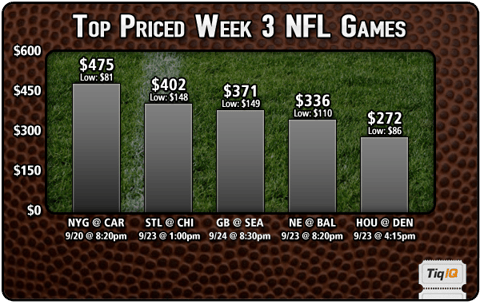 The first two weeks of the 2012 NFL season have been absolutely crazy. Entering week three, either the Arizona Cardinals or Philadelphia Eagles will be 3-0, while the Baltimore Ravens or New England Patriots could drop to 1-2. The New Orleans Saints digging themselves an 0-2 hole to start the year just puts the icing on the cake.
As crazy as these predicaments are that the mentioned teams are in, what's even crazier is how little we still know about all 32 NFL teams. We'll try to dig deeper and find out a bit more as we breakdown week three's top five priced games:
1. Giants @ Panthers - Avg Price: $475, Low Price: $81 | Weekly Trend: +93%
After magically thwarting off an 0-2 start by throwing for over 240 passing yards in the fourth quarter (510 overall) in week two, Eli Manning leads his resilient defending champion New York Giants into Carolina for a battle of offensive potential against the Panthers. The Giants are guaranteed to have their hands full against second-year quarterback Cam Newton, who more than found his mojo in week two in a win over the New Orleans Saints.
Carolina's pass defense is generally fairly solid and has given Josh Freeman and Drew Brees some fits through the first two weeks, so it will be very interesting to see if they can knock Manning down a peg or two after his career week. On the flip-side, the New York Giants normally reliable defense has been gashed in two straight games to start 2012, and may not yet be equipped to handle the elusive Newton and his explosive weapons. One thing is for sure; it'll be one heck of a prime time event when they square off on Thursday Night Football in week three.
Click here for Giants @ Panthers tickets.
2. Rams @ Bears - Avg price: $402, Low Price: $148 | Weekly Trend: -7%
The St. Louis Rams have looked very sharp to start the season, narrowly missing out on a 1-0 start against the Detroit Lions, and then escaping an 0-2 hole with a win over the Redskins in week two. They'll travel to Chicago to take on the Bears as they try to get to 2-1 against an always nasty defense led by Brian Urlacher, while they try to force turnover-prone quarterback Jay Cutler into giving them the game.
Sam Bradford and Danny Amendola hooked up an insane 15 times in week two, but will face a stiff test against a quality Bears pass defense that roughed up rookie Andrew Luck in his pro debut and made Aaron Rodgers look like a pedestrian passer in week two. Chicago looks to be the favorite at home, but the moral of the story will likely be whether or not Cutler can rebound and keep himself from losing this one for the Bears.
Click here for Rams @ Bears tickets.
3. Packers @ Seahawks - Avg Price: $371, Low Price: $149 | Weekly Trend: -11%
Monday Night Football is graced by the Green Bay Packers' presence in week three, but few can be completely sure just what Packers' team will show up. Will this be the same team that delighted the NFL world en route to a 15-1 regular season record in 2011, or the one that has been slow to impress on offense during a 1-1 start to 2012?
Aaron Rodgers hasn't been quite himself through the first two weeks, although it's fairly arguable that facing tough defenses in the 49ers and Bears has a lot to do with it. If so, week three might not be much of a picnic, either, as Rodgers and co. go up against a very solid Seahawks defense.
Seattle is backed by rookie quarterback and former cheesehead (University of Wisconsin) quarterback Russell Wilson, along with "beast mode" himself, running back Marshawn Lynch. Behind those two offensive weapons is a stingy defense that nearly beat the Cardinals and held Tony Romo and the Cowboys to just seven points in week two. Will Wilson and the Seahawks shock the world, or will A-Rod and the Pack finally start to hit their stride in front of the nation?
Click here for Packers @ Seahawks tickets.
4. Patriots @ Ravens - Avg Price: $336, Low Price: $110 | Weekly Trend: -8%
The 1-1 Patriots travel to Baltimore to take on the 1-1 Ravens this week, in a rematch of last season's AFC title game. The Ravens narrowly missed out on a Super Bowl appearance thanks to a missed field goal by kicker Billy Cundiff, but now host New England with his replacement, Justin Tucker. The Patriots look about the same as they did the last time these two teams met, but will be without star tight end Aaron Hernandez, who is nursing a high ankle sprain.
Baltimore was bummed out by some bad reffing and a late Michael Vick touchdown last week, while the Patriots couldn't get past the Cardinals at home in week two. Both teams will be looking to avoid the drop to 1-2 in what is sure to be one of the most heated contests of the week
Click here for Patriots @ Ravens tickets.
5. Texans @ Broncos - Avg Price: $272, Low Price: $86 | Weekly Trend: -24%
It's no surprise that a Broncos game cracks the top-five priced list, as Peyton Manning is always a draw, and this time he's going to work for the hometown Broncos who battle the 0-2 Texans. This is a classic toss-up game that carries the firepower to end up being an offensive shootout, but with Houston's tough defense and Manning's history of difficulty against 3-4 defensive schemes, is more likely to shape out to be a grind-it-out defensive battle.
Manning was sharp in week one but fell apart in week two versus the Atlanta Falcons, tossing three picks in the first quarter alone. Despite all of the preseason hype, the Broncos are suddenly starting 1-2 in the face, while the undefeated Texans are still out to prove their solid 2011 campaign and playoff run was no fluke. This one figures to be a close, down to the wire battle you won't want to miss.
Click here for Texans @ Broncos tickets.
And click here for tickets to all other NFL games this week.