Previewing The Red Hot Chili Peppers North American Tour
Arguably one of the few contemporary rock bands with universal appeal left on the planet, the Red Hot Chili Peppers reconvene for the North American leg of their extensive I'm With You world tour later this month following brief diversions into Europe and Asia.
The funk-rock veterans have already wowed over a million fans across the globe since kicking off the tour in Columbia last September and are on course to double that tally by the time it comes to an end in South Africa in February 2013.
Originally pencilled in for early 2012, the band were forced to reschedule ten of their US shows after frontman Anthony Kiedis underwent surgery to remove a crushed sesamoid bone and correct a detached flexor tendon in his foot, injuries which are said to have occurred during the group's last major tour in promotion of Stadium Arcadium five years previously.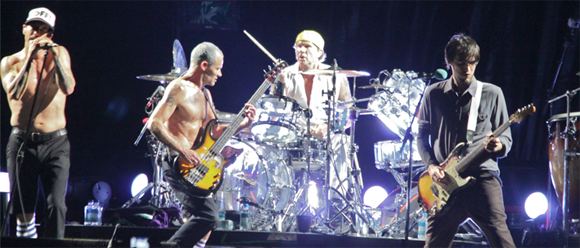 Now fighting fit, although newly-recruited guitarist Josh Klinghoffer is also playing whilst recovering from a broken foot sustained during an Oakland show, the recent Rock & Roll Hall Of Fame inductees are ready to make up for lost time when they take to the stage at San Diego's Valley View Casino Center on September 23.
Whether you climbed on board during their post-punk beginnings, their infamous sock-wearing period or their world-conquering heyday, the set-lists they've largely stuck with during the tour so far suggest everyone should go home satisfied.
Backed by a huge hi-tech video screen projecting various hypnotic images, Kiedis and co. rattle through material from the 80s ("Me & My Friends," "Higher Ground," "Freaky Styley"), 90s ("Scar Tissue," "Under The Bridge," "Give It Away") and 00s ("Dani California," "By The Way," "Can't Stop") whilst also showcasing several tracks from their 2011 10th studio album, I'm With You ("The Adventures of Rain Dance Maggie," "Monarchy Of Roses," "Ethiopia").
Chili Peppers fans should also expect a few curveballs. Previous shows have included cover versions of "Orange Claw Hammer," the Captain Beefheart number which bassist Flea has admitted always makes him cry, "Everybody Knows This Is Nowhere," the title track from Neil Young's 1969 second studio album and Funkadelic's "Red Hot Mama."
Whilst amidst the several band jam intros scattered throughout the show, former drummers Cliff Martinez and Jack Irons have also appeared during several encores to take the sticks for the first time since the 80s.
Tickets for all of the ten rescheduled dates are still available, although the show at San Diego and the following gig at Glendale's Jobing.com Arena (Sept 25) are currently more in demand than the concerts at Denver's Pepsi Center (Sept 27) and Oklahoma City's Chesapeake Energy Arena, while there are also several 3 Day Passes for their appearance at the Austin City Limits Festival (Oct 12) on offer.
The 12 remaining dates of the North American leg which were unaffected by Kiedis' injuries, from Kansas City's Sprint Center (Oct 27) to Winnipeg's MTS Centre (Nov 26) also have seats to spare, although there's limited availability at Calgary's Scotiabank Saddledome (Nov 19) and Saskatoon's Credit Union Centre (Nov 24).
If you'd like to be there in person, click here for Red Hot Chili Peppers Tickets.