Sunday's Broncos - Raiders AFC West Showdown is the Top Ticket for Week 4 in the NFL
Just when you thought things were going to settle down in the NFL, week three bombarded us with a huge case of the crazies. It started on Thursday night with the Panthers not even showing up against the Giants at home, and culminated with one of the worst referee calls in NFL history on Monday Night Football.
One thing we know for sure, is that the NFL isn't without drama and entertainment, and it should be even more interesting in week four. Let's gear up for it as we preview the top four priced games of the week: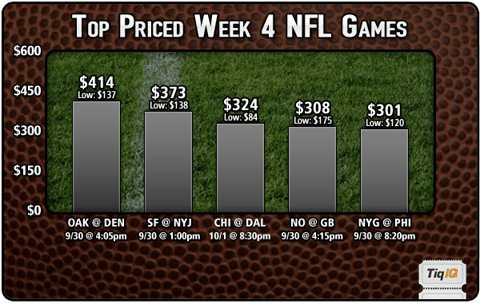 1) Raiders @ Broncos - Sunday @ 4:15 PM | Avg Price: $414 | Get-in Price: $137 | Weekly Trend: -3%
Leading the way is the ever heated Broncos and Raiders rivalry, which is actually the second most expensive Denver home game of the year, only coming in second to an October Saints meeting. It's not wonder, either, as the Raiders or the Broncos bitter division rivals and no matter how far away these two teams are separated by talent on paper, the games seem to always go down to the wire.
Don't look for this one to be any different. Oakland sputtered through the first two weeks, but showed their worth in a comeback win over the Steelers last week, while Denver continues to be led by what looks to be a less than 100% Peyton Manning. This is a huge game for two 1-2 divisional rivals, as they both try to catch up with the 2-1 AFC West-leading San Diego Chargers.
Click here for Raiders @ Broncos tickets.
2) 49ers @ Jets - Sunday @ 1:00 PM | Avg Price: $373 | Get-in Price: $138 | Weekly Trend +37%
Jets fans should gladly pay the price to get into this contest, even though it's slated as the most expensive home game for New York on the year. This is a major season tilt game on paper, as the Jets have a gruesome schedule coming up, and a win against an elite team like San Francisco would give them a 3-1 start and a ton of confidence.
However, it won't be an easy task, as the 49ers will come in hungry off of an embarrassing 24-13 loss to the Minnesota Vikings, and their stout defense won't be into playing games. Mark Sanchez and co. will have their work cut out for them in this one.
Click here for 49ers @ Jets tickets.
3) Bears @ Cowboys - Monday @ 8:30 PM | Avg Price: $324 | Get-in Price: $84 | Trend: +14%
Chicago marches into Dallas to claim the fourth highest priced Cowboys home game of 2012, and it's fairly fitting, as both teams are 2-1 and boast feisty defenses and potentially explosive offenses in a battle that will be on a primetime stage. The matchup of Jay Cutler and Tony Romo draws enough buzz on it's own, but the two teams both figure to be playoff caliber units, while they have weapons that can break games open at anytime.
Both teams got off to hot starts in week one, as Dallas beat the defending Super Bowl champion Giants, and Chicago slapped around rookie quarterback Andrew Luck and the Colts. Both teams have gone 1-1 since, with their offenses struggling mightily. Cutler has been under major scrutiny, and life isn't likely to get much easier under the watchful eye of the nation against Dallas on Monday Night Football.
4) Saints @ Packers - Sunday @ 4:15 PM | Avg Price: $308 | Get-in Price: $175 | Weekly Trend: -23%
The Packers/Saints season opener averaged $364 per ticket last year, and for good reason. The game was kicking off the 2011 season, and was showcasing two of the league's top offenses. It didn't disappoint, either. Considering the success the two teams found last year at Lambeau, it's no surprise that this rematch is the most hyped in recent memory, and also the most expensive game at Lambeau on the year.
It'd be over-hyped normally anyways, but with the Packers (1-2) and Saints (0-3) both in unlikely holes to start the year, this figures to be an epic offensive explosion. The Packers can get back to .500 if Aaron Rodgers and co. can get back to their 2011 ways, and there's a pretty good chance of that happening against an awful Saints defense. However, it isn't likely to be easy, as the Saints still are plenty talented and can't feel good about the prospects of dropping a fourth straight game to start the season.
Click here for Saints @ Packers tickets.
5) Giants @ Eagles - Sunday @ 8:20 PM | Avg Price: $301 | Get-in Price: $120 | Weekly Trend: -12%
Our second and last bitter division showdown cracks our top-five, and it's really no surprise that it's the Giants and the Eagles. Eli Manning and Michael Vick pit their explosive offenses together in an epic early season showdown of two 2-1 teams, with the clear pull being the fact that the Giants are the defending champs.
This would be a huge win for Philly, which makes it no surprise that this is the second most expensive home game for the Eagles for 2012, behind only a matchup with the Dallas Cowboys later in November, who Eagles fans arguably hate even more. Fans should have a good idea of the type of atmosphere they're in for just based off of ticket price history, as this matchup in Philadelphia has risen in price for three straight years, from $264 in 2012 and $272 in 2011.
On paper, Michael Vick may have to run for his life, while also making zero mistakes. The athletic quarterback has been a bit of a turnover machine through the first three weeks, while his offensive line really hasn't done him any favors. If the Eagles are smart, they'll deploy running back LeSean McCoy early and often to help keep the New York pass-rush at bay.
Click here for Giants @ Eagles tickets.
And for tickets to all other NFL week 4 games, click here.