Wednesday Night's Giants-Cowboys Clash is Week 1's Top Ticket
With the start of the 2012 NFL season just hours away, we wanted to begin what will be a weekly post here at the TicketIQ Blog breaking down that week's top 5 priced NFL games.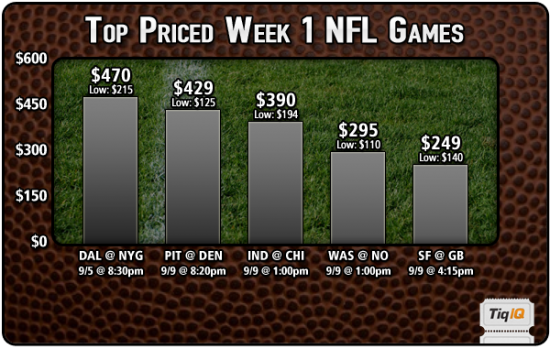 1) Cowboys @ Giants - Wednesday @
8:30 PM (Avg Price: $470/Low: $215 | Weekly Trend:

-10%

)
In a rematch of last year's "NFC East title game", the Giants and Cowboys renew one of the NFL's best rivalries as they kick off the NFL season this Wednesday night at MetLife Stadium.
The Giants enter this season as reigning Super Bowl Champs, and with Eli Manning coming off of his best season as a professional and wide receiver Victor Cruz turning into a star, will look to become the first team to go back-to-back since the New England Patriots did so back in 2003-04. They lost some key members of the team during the offseason, but hope their new additions, including former Cowboy Martellus Bennett, will fill the void.
Dallas, on the other hand, comes off of a very disappointing 2011. A season that saw them finish 8-8 and miss out on the playoffs thanks to a crushing 31-14 loss to these same Giants last New Year's Day. They will look to put last year's bad memories in their rear view and start this season doing something they couldn't do last year, beat the Giants.
Click here for Cowboys @ Giants Tickets
2) Steelers @ Broncos - Sunday @ 8:20 PM (Avg Price: $429/Low: $125 | Weekly Trend -20%)
With Tebow-Mania being short lived and relocated to New York, in comes Peyton Manning, his Super Bowl ring, and a Hall of Fame arm. So if you like hype, this one is for you.
Peyton's debut will come on Sunday night in Denver against one of last year's best defenses in the Pittsburgh Steelers. After last year's magical run to the playoffs, Denver will look to build upon that newly found success, and an already solid defensive core, in the 2012 season.
Pittsburgh won a quiet 12 games in 2011 but bowed out of the playoffs in the wild card round, losing to none other than the Tebow-led Denver Broncos. This one is going to be a physical battle throughout as two AFC powerhouses go head to head to open their respective seasons.
Click here for Steelers @ Broncos Tickets
3) Colts @ Bears - Sunday @ 1:00 PM (Avg Price: $390/Low: $194| Weekly Trend: -15%)
This matchup will signify the much anticipated debut of rookie quarterback Andrew Luck. After what many would say was a very impressive preseason for Luck, the former Stanford standout will now face his first real NFL defense, and a tough one at that. After ridding themselves of future Hall of Famer Peyton Manning, the Colts will look to get back on their feet behind their prized rookie.
The Chicago Bears, who had their season ripped from their grasps last year due to the injury of their own starting Quarterback, Jay Cutler, will be looking to finish what they started through the first half of last season and battle the Packers for the NFC Central crown. Brian Urlacher has been cleared and promises to play on Sunday.
The Bears finished last season at 8-8, while the Colts managed just 2 wins all season, their worst mark in years. In their last meeting in 2008, the Bears won convincingly 29-13.
Click here for Colts @ Bears Tickets
4) Redskins @ Saints - Sunday @ 1:oo PM (Avg Price: $295/Low: $110 | Weekly Trend: -18%)
This match up will be an interesting one. While Luck's debut may be the most anticipated of all NFL rookies, Robert Griffin III's debut in against a depleted Saints squad is easily a close second. Depleted not due to injury but due to the bounty conspiracy in which they will be missing their head coach and starting middle linebacker, Jonathan Vilma, among other players. Many are writing the Saints off as duds this year due to the league high-jacking much of their roster, coaches and GM, but don't be surprised if they take advantaged of the inexperienced teams they face in the first three weeks of the season.
The Redskins coming off a five win season and finishing last, are clearly in a rebuilding phase but they have some enciouraging pieces to build around. A plus running back in Roy Helu along with rookie addition Alfred Morris should solidify a solid running game around RG3.
2009 marked the last meeting between these two teams and the saints edged the Skins 33-30.
Click here for Redskins @ Saints Tickets
5) 49ers @ Packers - Sunday @ 4:15 PM (Avg Price: $249/Low: $140 | Weekly Trend: -12%)
In what will probably be the most marquee match up of the first football Sunday, the 49ers will invade Lambeau Field for a mid-day battle against the MVP Aaron Rodgers and the Green Bay Packers.
Straight off their heart-breaking NFC Championship game loss to the New York Giants, the Niners look to pick up the pieces and make a legitimate run at the Super Bowl. And thanks to newly acquired Mario Manningham and Randy Moss, Alex Smith will have a few more weapons to work with this season, only making the 49ers that much tougher.
Standing in their path, in week one and likely further down the road, are the Green Bay Packers who also fell victim to the Giants in last year's playoffs. The Packers have pretty much the same group that went 15-1 last year and are primed to finish another year at the top of the NFC, maybe this time with a perfect record.
Last season the two teams combine for 28 wins and just 4 loses & the last time these two teams met was 2010 and Green Bay won easily 34-16.
Click here for 49ers @ Packers Tickets
And for all other NFL games this week, click here.