2013 Born This Way Ball Tour: Lady Gaga Tickets Going Through The Roof
Lady Gaga is set to resume her world tour later this month and whether you are a proclaimed little monster or someone who appreciates the classically trained fingers of Stefani Joanne Angelina Germanotta (a.k.a. Lady Gaga); the time to grasp your claws around Lady Gaga tickets for the North American leg of her Born This Way Ball Tour has come. Lasting from January through March, Lady Gaga is set to ravage countless wallets across the United States and Canada.
Lady Gaga tickets are currently averaging $314 per ticket for her 32-show Born This Way Ball Tour, with the low ticket for each show averaging $110; however, many dates still have tickets available for under $100. On the low end, the most affordable shows are in Vancouver, Tacoma Washington, Philadelphia, and Toronto, where the average for all shows is below $300. Atlantic City may offer the most interesting venue--the Boardwalk Concert Hall--but it also holds the priciest tickets with an average of $725 bucks per seat and a get-in price of $259.
Every Lady Gaga tour is known for its crazy sets, crazier dances, and the craziest costumes. Fans who are lucky enough to attend are also encouraged to don their most Gaga-esque attire and accessories. These fans definitely won't be the only ones dressed up for the night. Gaga herself will be performing the song Heavy Metal Lover in a Giorgio Armani fringed jacket and the songbird will belt out Edge of Glory while she is tightly wrapped in a glorious Donatella Versace corset. Either way, you'll get an amazing fashion show in addition to a glamorous concert experience.
Critically acclaimed as well as controversial, this is definitely not your momma's concert tour. During the tour thus far, the queen of the monsters has been criticized for smoking a joint on stage, vomiting on stage, singing a new release about suicide, and insulting the Thai way of life. Still, concert goers are more identifiable than ever and the more irrational Gaga is on stage, the more that the little monsters eat her up.
Lady Gaga has also been praised for her innovative approach to her pop-like style of music and raw and inspirational extravaganza of song, sights and sounds. Millions have reiterated their love for this newly crowned princess of pop and millions more are already holding tickets in their hands. Don't miss your chance to attend this monster ball with your favorite prince or princess. Tickets are disappearing faster than Lady Gaga's costumes.
Born This Way Ball Tour Ticket Overview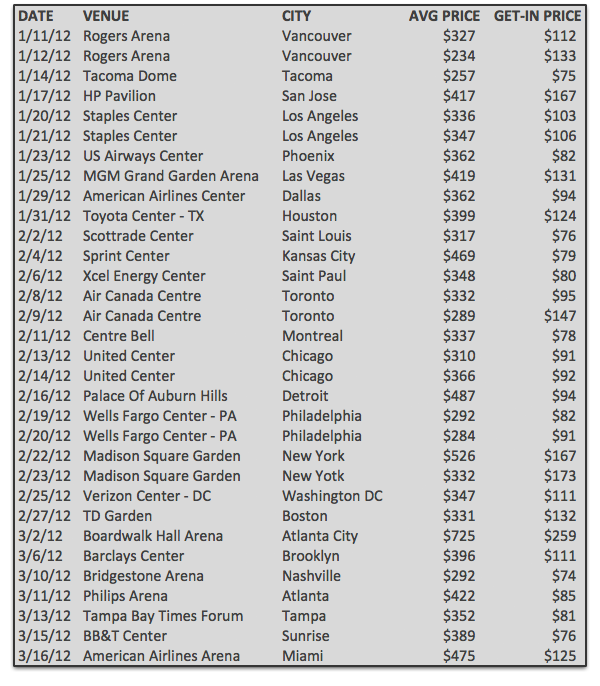 http://www.youtube.com/watch?v=va31iqphPRI