Christmas Day NBA Tickets can be a bit spendy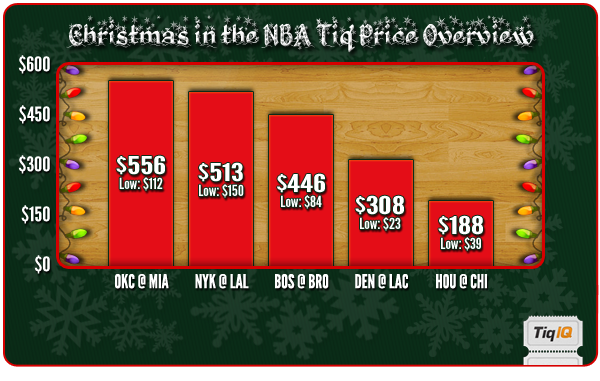 Back on Christmas Day in 1947, the New York Knicks played the Providence Steamrollers at Madison Square Garden, with the Knicks winning, 89-75. Since then, Christmas has always been a date that NBA fans always circle on their calendar. With the exception of the lockout-shortened 1998-99 season, the NBA has featured at least one game on the holiday, and in recent years the league has expanded to the current five-game slate. Coaches and players have criticized the holiday schedule, but there is no denying the monetary or nostalgic lure of Christmas games.

Strategically, the league tries to put its most marketable matchups on Dec. 25. Because of this, teams like the Knicks have been featured in 47 Christmas Day games, the most of any team. Kobe Bryant has made 14 Christmas appearances, the most of any player....Read the entire article on SBNation.