The NFL Playoffs are closing in as we enter week 15, and for the most part nothing is set in stone. All we really know for sure is that the Patriots, Texans, Broncos and Falcons will be part of the race for the Lombardi Trophy this year. What their seeds will be and the other eight teams to take them on, however, are yet to be determined.
This week plays a big hand in helping us work through the mess, though, as a few teams will certainly be eliminated from playoff contention with a loss, while losses from teams like the Giants and Ravens could muddy up division and wild card races even more.
With that said, let's dive into our top-five price NFL games of week 15: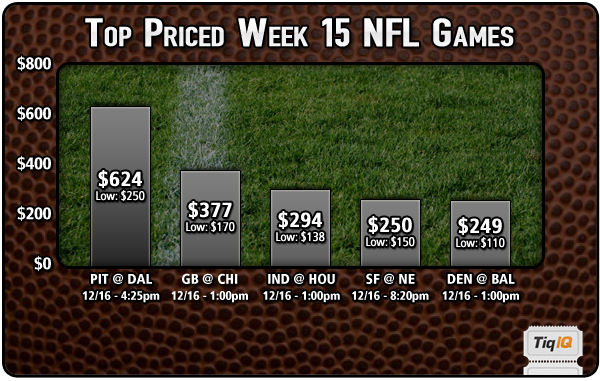 1. Steelers @ Cowboys Avg: $624| Get-in: $250 | Weekly Trend: -2%
Pittsburgh and Dallas face off in a huge battle for both teams. Both the Cowboys and Steelers sit at 7-6 and are at least a game back in their respective divisions. A win for either team would keep them both in the race for their division and/or their conference's wild card, while a loss likely ends their playoff bid.
The hype surrounding this huge week 15 matchup is an incredible $624/ticket, which is 132% above the average price for Dallas Cowboys tickets this season. On the low end, prices are still pretty hefty at $250. Needless to say, this is the most expensive road or home game for either side, while the price of admission should be more than worth it.
As if the magnitude of this game wasn't big enough, we get a showdown between Tony Romo and Ben Roethlisberger in the Cowboys glorious stadium. It should be an epic battle with both teams clawing for the win until the bitter end.
2. Packers @ Bears Avg: $377 | Get-in: $170 | Weekly Trend: -31%
I was slightly shocked that the Packers and Bears didn't take the top spot this week, as this is a true battle for the NFC North. A Bears win would have both teams at 9-5 entering week 16, and would make the final two weeks of the year extremely crucial for both sides. However, Jay Cutler is a bit banged up, and no Brian Urlacher could also take some of the steam out of this matchup. However, a Green Bay win would give the Packers a season sweep of Chicago, along with the NFC North title. That would mean the Bears could only get into the playoffs via one of two wild card spots, so you have to imagine they'll give it their all to stay in the race for the division. These two sides are bitter rivals and carry tons of history into a huge matchup in Chicago.
Needless to say, it comes in second for good reason. The current price of tickets to the game is $377, which is 20% above the average price for Chicago Bears tickets this season. Prices for this game are also 44% above the price for their game in 2011, and up an incredible 95% from a previous 2010 battle in Green Bay. There's no question this could be a battle for the ages, with the deciding factor likely being whether or not the Bears can contain Aaron Rodgers and the Packers after not being able to do so earlier in the year.
3. Colts @ Texans Avg: $294| Get-in: $138 | Weekly Trend: -10%
Andrew Luck has already gone from a boy to a man in his 2012 rookie season, but if there was any doubt of that, it could really come to fruition in week 15. Luck will try to lead the Colts to a 10-win season against the mighty Texans, who could be angry or reeling after a blowout loss to the Patriots in week 14.
This one will keep everyone guessing until the two teams hit the field, but it certainly won't fall short on hype. Houston stands tall in the AFC North at 11-2 entering this matchup, but a win would put Indy in position to take the division should they sweep the season series in the season finale.
The division rivalry, Luck, and division and playoff implications have helped this matchup grow in popularity by a wide margin since last year (up by 130%), as well as 119% high than their 2010 meeting in Houston. Currently, the average price for the game is $294, which is surprisingly 7% below the average price of Houston Texans tickets this season.
Luck's sensational rookie season full of clutch late-game heroics has everything to do with Indy's rise, while the Texans have a balanced, formidable attack. It will be extremely interesting to see who gets this one, as it could potentially set the stage for a classic ending to the regular season.
4. 49ers @ Patriots Avg: $250 | Get-in: $150 | Weekly Trend: -25%
Colin Kaepernick will attempt to keep pace with Tom Brady in week 15, a week after Brady and his explosive Patriots offensive wiped the floor with the Texans. The San Francisco 49ers' elite defense will surely have something to say in this one, as well, but could find it difficult to keep a red-hot Brady in check on the road.
No matter what happens in this one, fans will have to pay $250 on average this weekend, 11% below the average price of New England Patriots tickets this season. The low price for the game is a more reasonable price of $150/tickets. On top of that, it happens to be the second most expensive home game for the Pats (behind just a December 30th matchup with the Dolphins), while it is also the second most expensive road game for the 49ers (behind only a December 23rd battle with the Seahawks).
On paper, it'll be worth every dollar to get in and see this one. After what we saw last week, that's probably especially true if you're a New England fan, while 49ers fans will gladly show up to see if their team can shut the Patriots down and re-establish themselves as the class of the league.
5. Broncos @ Ravens Avg: $249 | Get-in: $110 | Weekly Trend: -26%
Hand Peyton Manning and the Denver Broncos some butter, because they're on a row. The Sheriff and his crew are rolling with eight straight wins and will seek a ninth straight victory come week 15, while a now Cam Cameron-less Ravens squad will attempt to end a two-game skid.
Denver has the AFC West and a playoff spot locked up, but still has a first round bye and possibly even home field advantage in their sights, while the Ravens simply want to wide the gap in the NFC North and avoid a three-game skid. It could be easier to do that with the return of Ray Lewis and possibly also Terrell Suggs, but no team appears to be a lock to claim this one heading into Sunday.
Aside from the playoff implications, this is simply a fantastic NFL matchup. Still, tickets are actually 2% below the average price of Baltimore Ravens tickets this season. However, this battle has climbed 28% in price from the last time these two teams met in 2010. It also ranks as Baltimore's fourth most expensive home game of 2012, while this is Denver's most expensive road game of the year.