Texans & Cowboys: The State of Pro Football in The Lone Star State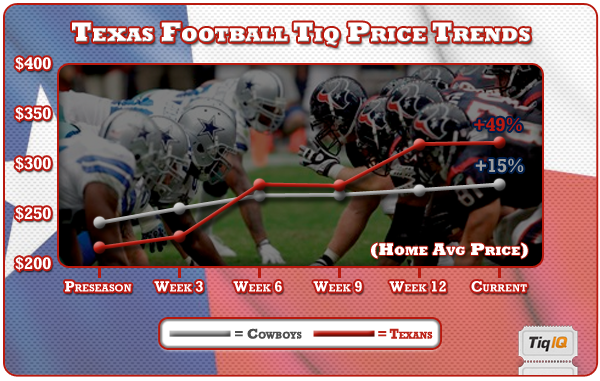 Since joining the NFL as an expansion team in 1960, the Dallas Cowboys have made their place in the fabric of Americana. Some would say "America's Team" is, at this point, ubiquitous as apple pie.
However, long gone are the days of Roger Staubach and Tom Landry; its over 15 years since Aikman, Irvin, and Emmitt won their last Super Bowl. In fact, with just 2 playoff wins since 1996, Cowboys fans have even petitioned President Obama to impeach team patriarch Jerry Jones.
Moreover, the Houston Texans are giving them a run for their money for Texas NFL supremacy.
After joining the league—also as an expansion team—in 2002, the Dom Capers/David Carr era of Houston Texans history had been mediocre at best. After winning just 18 games in 4 seasons, the team reset in 2006, hiring Mike Shanahan-disciple Gary Kubiak as head coach. The following year they traded for current QB Matt Schaub..........
Read more at Business Insider.