Lakers struggles continue, ticket sales slow down as Clippers begin to take over Los Angeles
At the beginning of the season, Lakers tickets were among the most expensive in basketball at an average price of $362 dollars, compared to just $123 dollars for Clippers tickets. But over the course of an unsuccessful coaching change, numerous injuries, and well, just a lot of unexpected losing, fans have begun to sour on the Lakeshow.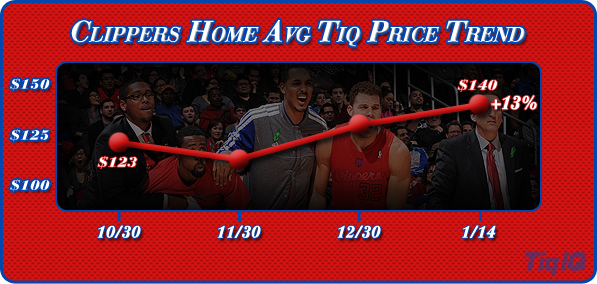 The Lakers began the season as no worse than second favorite to take home the NBA title. Las Vegas and most offshore books had the Lakers priced around 5-2 odds, implying roughly a 30% chance of the boys in purple and gold hoisting the Larry O'Brien trophy. Excitement was high for this year's team, and fans were ponying up a pretty penny to get in the door of the Staples Center. With prized offseason acquisitions Dwight Howard and Steve Nash in tow, the lineup looked like a far cry from the Chris Mihm/Chucky Atkins days of 2005, the only time in Kobe Bryant's 16 seasons to date that his Lakers have missed the playoffs.....

Read the rest of this article on Business Insider.