Nuggets Fans Paying Huge Premium To See Melo's Return
Over the last few years in the NBA there have been few stories as big as Carmelo Anthony's departure from Denver and Dwight Howard's from Orlando. This week, both superstars return to their former homes for the first time since each was traded, and we wanted to see the premium above the average price of Magic tickets and Nuggets tickets both team's fans are paying to welcome (most likely with boos) their former franchise player back to their old stomping grounds.
With only a 16% premium over the average price of Magic tickets, it's pretty clear that fans in Orlando have had just about enough of Dwight Howard and his antics. In fact, over the last couple seasons the premiums for Magic-Lakers games in Orlando have been much higher. Last year when these two teams met fans paid 107% more than Orlando's home average, and in 2011 the premium was nearly 200%, so rather than a Howard-returns premium, we basically saw a discount.
On the other hand, with fans in Denver paying 89% more than the average price Nuggets tickets it's clear they're looking forward to the chance beat Carmelo and the visiting Knicks. As the New York Times detailed today, the Nuggets are no worse for the wear without Carmelo and prices for tonight's game are actually the fourth most expensive Nuggets home game of the year, behind only two games against the Lakers and their lone home game against the World Champion Miami Heat.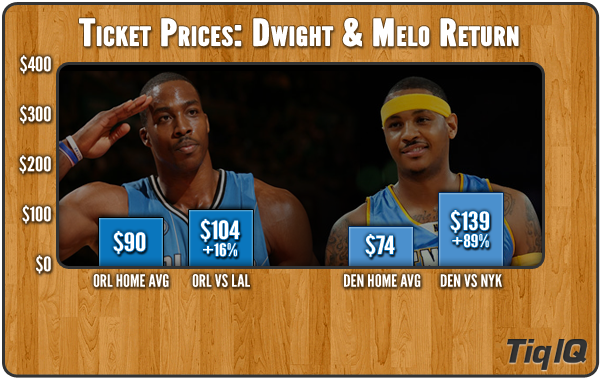 For tonight's game, fans in Denver can still find some relatively affordable seats. The current get-in price is $41, and there are over 50 tickets for under $100, including some on the lower level. If you are going to be there in person, or just going to watch the game, remember to RSVP for a chance to win a $200 ticket credit.
Remember, for the best deals on NBA tickets, or tickets to any other upcoming event, visit TicketIQ.com. And for even more deals visit us on Google+
Sell tickets for FREE w/ SellerDirect & WIN $200 in FREE Tickets to any event on TicketIQ.com.
Check out ScoreBig to make an offer on Nuggets tickets.