Knicks Fans Eager To Watch Team Wrap Up The Atlantic
It's been a long time coming for Knicks fans—19 years in fact. So long that the last time the Atlantic Division was theirs Bill Clinton was in his first term, the Internet was some new crazy fad that would "never catch on", and people still listened to their music on these.
Now, the Knicks sit on the cusp of breaking that 19-year drought and clinching the Atlantic Division tonight against the Wizards. It's no secret that a win tonight will be a huge accomplishment for an organization and fan base that had to live through the Isaiah years and Knicks fans are flocking to ticket websites (like ours) to snatch up the remaining seats for tonight's game. Since their win on Sunday in OKC, New York Knicks tickets for tonight's game at Madison Square Garden have skyrocketed up 190% to an average price of $973/per seat with a get-in price of $99. That $973 price tag makes this game the fifth most expensive Knicks home game of the season, just behind marquee matchups against the Heat, Nets and Lakers.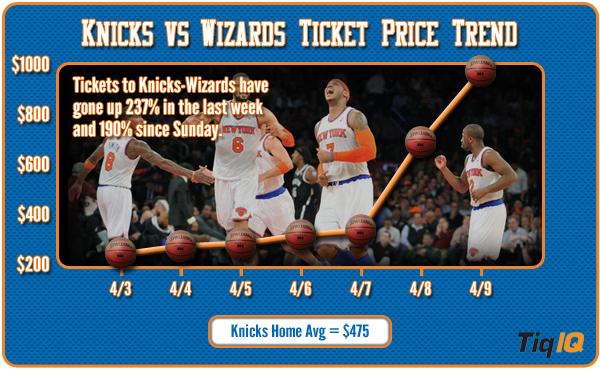 Knicks fans may want to worry about potential first round matchups, the team's chances against the Heat in the playoffs, and who to rest down the stretch. And while all of those are relevant discussions to be had for the Knicks faithful, tonight is not the time for it. Tonight, with a win of course, is for celebrating and enjoying a much-deserved division title.
Remember, for the best deals on New York Knicks tickets, or tickets to any other upcoming event, visit TicketIQ.com. And for even more deals visit us on Google+
Sell tickets for FREE w/ SellerDirect & WIN $200 in FREE Tickets to any event on TicketIQ.com.