With New York vs Boston rivalry strong, New York ticket prices continue slight edge over Boston
It's no secret that the New York/Boston rivalry is among the, if not the single most competitive rivalry between cities in professional sports. With their respective teams consistently battling for division titles and matching up in high profile playoff games, some might say that these two cities truly define what it is to be a rivalry in American sport.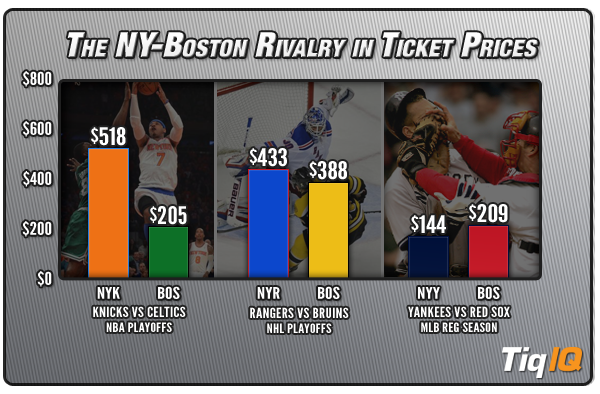 With the Knicks/Celtics first round playoff series in the books, the Boston Bruins look to avenge the loss of their basketball brothers and defend the TD Garden. This second round Stanley Cup Playoffs series currently carries a series average ticket price of $407 dollars, a 24% premium to the series average of the New York/Boston NBA matchup. Knicks/Celtics ticket prices were largely depressed by the $205 average for Celtics tickets in Boston, as the prices at Madison Square Garden average check in at a whopping $518 dollars, leading to a series average of $329.
Although prices for New York Rangers tickets at MSG are still slightly more expensive than those at TD in the Bruins/Rangers matchup, the Ranger home games are a bit less expensive than the Knicks home games, while Bruins tickets at TD carry a significant premium to those of the Celtics. This results in a higher series average price of $407 dollars for the NHL matchup. Tickets at MSG for this Eastern Conference Semis matchup check in at an average of $433, which is just a 12% premium to the average TD Garden price of $388.
Knicks - Celtics:
Series Avg: $329
@ MSG: $518 (+153% above TD Garden Prices)
@ TD: $205
Bruins - Rangers:
Series Avg: $407
@ MSG: $433 (+12% above TD Garden Prices)
@ TD: $388
When it comes to baseball however, that is one sport where fans in Beantown pay a premium over those in the Big Apple. Fans are well aware of the trouble that the Yankees have had selling out the new Yankee Stadium, and while much has been made of the Red Sox sellout streak coming to end, fact is that the 37,400 capacity of Fenway park makes Red Sox tickets quite a bit more scarce than the 50,000+ capacity of the Stadium. The Yankees/Red Sox season series average ticket price of $178 dollars comes about by way of a $144 dollar average price for Yankees tickets in the Bronx, and a $209 dollar average price for those at Fenway. The Yankees and Red Sox will kick off a three game set in two weeks, on the final day of May.
Yankees - Red Sox
Season Avg: : $178
@ Yankee Stadium: $144
@ Fenway Park: $209 (+45% above Yankee Stadium prices)
While Rangers/Bruins is the most expensive of the three matchups, with prices 28% above those of Knicks/Celtics, and 129% above Yankees/Red Sox, there is still one New York/Boston matchup that could dwarf all of them. That matchup would of course be a third meeting of the Giants and Patriots in the Super Bowl, with this year's Super Bowl in New York a home game for the Giants if they are to make it.
Remember, for the best deals on NHL tickets, NBA tickets, MLB tickets, or tickets to any other upcoming event, visit TicketIQ.com.And for even more deals visit us on Google+
Sell tickets for FREE w/ SellerDirect & WIN $200 in FREE Tickets to any event on TicketIQ.com.