Breaking Down Radio City Christmas Spectacular Tickets
Since 1933, the Radio City Christmas Spectacular has been one of the most popular New York City Christmas traditions and one that welcomes over a million audience members per year. The 90-minute show featuring over 140 performers, including the world-famous Rockettes, has become a must-see for many around the holiday season. This year's show will be running from November 7th through December 30th. Tickets for this year's run are currently averaging $168 per seat on the secondary market and with a show this popular, Radio City Christmas Spectacular tickets are always in high demand. However, for those looking for deals, there will be some days and weeks when tickets will be cheaper to get than others. Here's a weekly breakdown: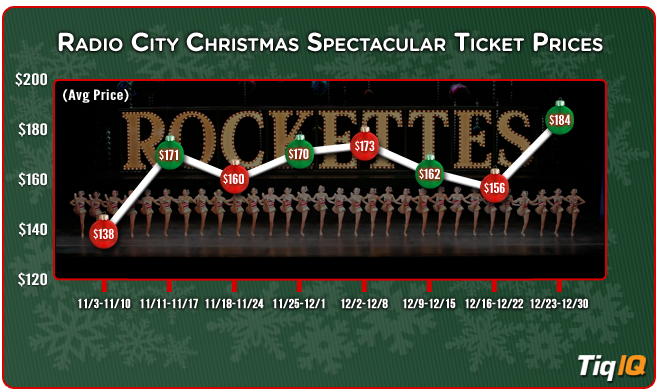 The opening half-week of the shows from November 7-10 are clearly the least expensive of the show's eight-week run. Tickets for the opening week are averaging just $138, 17% below the average for the show's 2013 run. With so much time left until Christmas, it's not much of a surprise that this would be the least expensive week. On the other hand, at $156 per seat, the second least expensive week on average is December 16-22, the second to last week of the run and just day before Christmas week begins on December 23rd. That week is the most expensive week of the show with an average ticket price of $184.
The least expensive day of the show is the first Friday, November 8. That day also have the two lowest individual shows of the entire run, the 11am show averaging $98.36, and the 8pm show averaging $107.64. The least expensive show closest to Christmas is the Thursday, December 19 8pm show, which is averaging $115.66. Looking at the pricier shows, they are all at the tail end of the run. Early morning Sunday's are in the highest demand with 9am shows on December 22nd and 29th being the two highest priced shows. The show on the 29th is the most expensive with an average of $289.69, while the show on the 22nd is averaging $275. Christmas Day doesn't have the most expensive shows, but all three shows on that day are well above the overall average. The 4pm show is averaging $240.27, the 7pm show is averaging $235.69, and the 1pm show has an average of $234.75.
Regardless of the show's time or date, the Radio City Christmas Spectacular is always a great show and one of the most exciting things around the holiday season in New York City. With four different show times on most performance days, there will be plenty of chances to get tickets and see one of the most famous shows in the world at Radio City Music Hall.