Bryant-Denny Stadium, located in Tuscaloosa, Alabama, gears up for another season of Alabama Crimson Tide college football. The stadium first opened in 1929 and has gone through many expansions and renovations over the years making the facility the fourth largest stadium in the SEC, the seventh largest in the United States, and the tenth largest stadium in the world holding a current seating capacity of over 101,000. For the upcoming season, Alabama football tickets are available for sections all over the Bryant-Denny Stadium seating chart.
Originally Bryant-Denny Stadium held a capacity of just 12,000 with the first expansion taking place in 1937. Further expansions would follow in 1950, 1961, and 1966 with upper decks added on the East and West side of stadium. Their most recent renovation was in 2010 with an expanded south end zone, which now includes a two level South Zone club with over 1,700 seats and 36 skyboxes. The whole stadium's audio/visual system was upgraded with two new video board on both corner of the south end zone.
Bryant-Denny Stadium, over the years, has been the host of some very memorable college football games and in recent years has become a stadium that is feared and tough to play in for visiting teams. Bryant-Denny is now regarded by many lists as one of the best places to watch football. The stadium ranks as the fourth toughest place to play according to NCAA Football 11, while Sporting News ranks it first, and Bleacher report ranks it as the 5th toughest and the second best stadium in the country.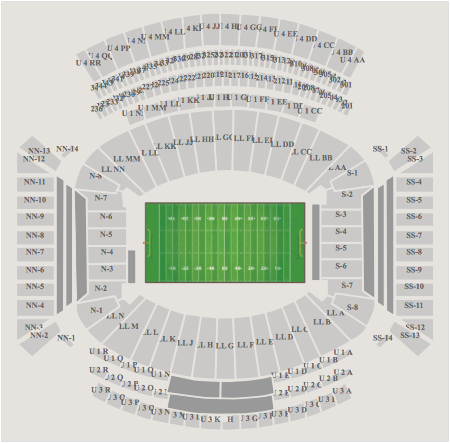 Crimson Tide football also played many big games at Legion Field, while Bryant-Denny went through renovations and expansions. In 2003, Crimson tide played its final game at Legion Field with Bryant-Denny becoming the sole home of the Alabama Crimson Tide.
Since 1929, the Alabama football have an overall record at Bryant-Denny Stadium of 237-48-3 with 12 different head coaches over that period of time as the Current Head Coach Nick Saban has been there since 2007 leading the Alabama football program to a 30-5 record at home and 3 National titles.
Crimson Tide kick off their season at Bryant-Denny Stadium on September 6 vs the Florida Atlantic Owls. There are currently three games at Bryant-Denny Stadium where Crimson Tide football tickets have a asking average price of over $200. Their most expensive game is on November 29 when they host the LSU Tigers with a current asking average price of over $400.