Red Sox Most Expensive, Marlins Least Expensive Road Draw During 2015 MLB Season
The bitter winter chill is gone, spring is in the air, and baseball caps are being dug out of closets around North America. OnApril 5, the Cubs and Cardinals will officially kick off the 2015 MLB season in Chicago, putting an end to an offseason filled with roster shakeups and big names moving around the league.
As on-field statistics begin to pile up, one underlying stat every fan must consider is the ever-fluctuating cost of a ticket. Whether rooting for the defending champion Giants or believing that this'll be the year the Cubbies break the Curse of the Billy Goat, fans will flock to the ballpark to see their teams play – and it's worth noting just how much they'll be paying to do so.
Close your eyes, Red Sox fans – you can expect to pay the highest price to attend a game this year. The team owns both the most expensive home and road average in the league this season following an offseason that brought Pablo Sandoval and Hanley Ramirez 3,000 miles east and into the American League.
According to TicketIQ, the average ticket price across all 30 MLB teams is $85 on the secondary market. As a visiting team, the average secondary price for Red Sox tickets is $137, marking a price premium of 61% over league average. Over the team's 81 games at Fenway Park this year, tickets average at $147.68 – the most expensive in the Majors this year.
The Yankees and Nationals round off the top three priciest road teams, with away tickets averaging at $128 and $121, respectively. Though Derek Jeter hung up his pinstripes in 2014, the Yankees will still pull a considerable draw on the road. The Nationals own what is widely considered the most feared starting rotation in the league, with Max Scherzer, Stephen Strasburg, Jordan Zimmerman, Doug Fister and Gio Gonzalez slated to pack parks across the nation all summer long.
On the other side of the financial spectrum, the Marlins serve as the cheapest road team to watch this season. The average price for Marlins tickets on the road this season is just $66, 22% below league average. The Diamondbacks and Athletics also see low road ticket demand, with Diamondbacks tickets averaging at $70 and Athletics tickets at $71 on the secondary market.
Perhaps the best ticket deal for an away team this season will be for the Braves, who boast a $71 average when they wear their road greys this season. According to Nerd Wallet, the Braves have a 55% win rate since 2012 and own a home secondary average of just $76.58. They'll have formidable competition in the N.L. East, however, which is slated to be run by the new-look Nationals.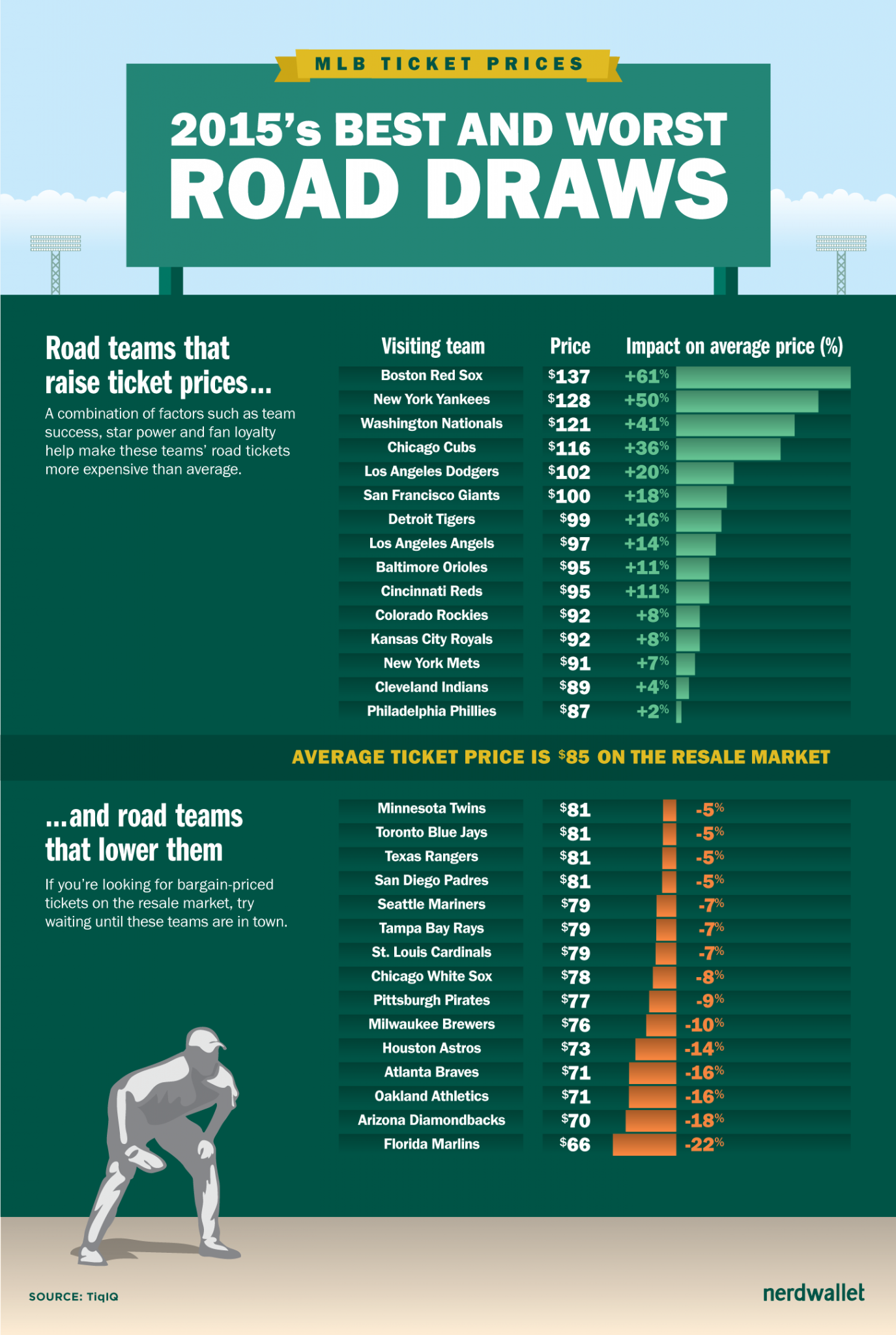 Via:NerdWallet