Festival season is officially in bloom, and the amount of festivals for a music fan to attend is increasing every year. With so many festivals, it can be hard to differentiate one from the other and which have the best features, value and overall experience. Over the last 10 years festivals have gone from a sideshow to the main attraction of the summer music season. From the humble origins of Fantasy Fair and Monterey International Pop in the late 60s, festivals are an economic juggernaut that is not only providing fans with what seems like an endless set of endless for summer music, but also driving lucrative exits for music entrepreneurs that build their brand from the ground up, often around local markets. Bonaroo and Coachella not only put Manchester, TN and Indio, CA on the map, they also established the foundation for the modern festival business that generates billions of dollars in annual revenue. Coachella alone generated close to $80 million in gross revenue last year. With face price for tickets the festivals that we analyzed at $292, attending a festival is a major financial commitment. In addition to tickets, there's often hotel and travel costs associated with a attending a festival. With hundreds of festivals to choose from, TicketIQ has put together their first annual 2015 festival value guide to make sure that fans are getting the most value of what fans are paying for.
Social Value
What many music festivals strive for is a large social following and getting as many people to talk about the festival as possible. There's few better ways to do that than by bringing in artists who already have that large social following. For social value, we took the combined Twitter followers and Facebook likes for the top five artists at each festival.
No 2015 festival brought more prospective social following than Rock in Rio Las Vegas, which featured Taylor Swift and her combined 127.8 million fans on Twitter and Facebook. No other festival eclipsed 100 million followers for the top five artists, though Coachella came close, thanks to a large following for Drake and AC/DC (86.4 million Twitter and Facebook fans combined).
We can also divide the social numbers by the face price of a ticket to see what the cost of that following may be worth. Of course, Rock in Rio comes out on top, but not all festivals can attract global superstar talent like Taylor Swift. Only one other festival had a cost per million followers under $3 - Austin City Limits. ACL is aided by strong followings for both Drake (56.4 million Twitter and Facebook fans) and rock 'n' roll mainstay Foo Fighters (13.5 million Twitter and Facebook fans).
Not all festivals are about the flash, though. Wakarusa Music and Camp Festival in Arkansas, for instance, has the highest cost per million followers due to no single headliner (Ben Harper & The Innocent Criminals, Major Lazer and The Roots) having more than 1 million followers on Twitter.
Headliner Value
So what are you paying for when you go to a festival? Are you paying for the big name acts, or are you paying for the whole festival experience? With our methodology, we started by taking the secondary market average price from TicketIQ for the top-five advertised artists, averaged those together and calculated the percentage of the festival face price that took up. This gives a sense of how much you're potentially paying to see the headliners of a given festival and how much is left to see the other bands in the lineup.
Unsurprisingly, Rock in Rio sees the biggest percentage given to the main headliners. With Taylor Swift, Bruno Mars, Ed Sheeran, John Legend and Sam Smith listed as the top-billed acts in 2015, the bevy of stars is one of the main reasons many would purchase a Rock in Rio ticket in the first place. Based on secondary market data, the average price for a ticket to see all five artists would be $234.26, roughly 79% of the $298 cost for a GA Weekend ticket.
Another headliner-heavy festival is Austin City Limits. ACL sees over 70 percent of the ticket price in headliners, but with so many other bands (as detailed below), the biggest bands on the bill are not the only attraction for the three-day festival.
The average ticket price to see all headliners at the Austin City Limits Festival, which includes Drake, Foo Fighters, The Strokes and Florence + The Machine, is $176.15. That is 70.5% of the $250 ticket cost for a 3-day pass. With so many mainstream artists slated to grace the stage at ACL in 2015, it's no surprise 3-day passes sold out in minutes when they went on sale in early-May.
On the other hand, Coachella is one of three studied festivals in which the headliner average does not take up more than 50 percent of the face price value. That is also understandable, as most Coachella-goers are there for the whole four-day experience and not just to see a few big bands. The average headlining artist price for Coachella's 2015 installment was $170.24, which was just 45.4% of the General Admission Weekend asking price of $375.
Band Value
For those who want to enjoy the whole experience of music festivals, the simplest way to find value is to figure out how much you're paying per band. This is as simple as dividing the face price by the number of bands scheduled to perform. The leader in this metric is Wakarusa at $1.48 per band. As stated above, Wakarusa does not hold a huge social following, but the amount of bands playing allows for a wide variety of interests instead of a few massively popular acts.
To go along with its lack of headliner premium, Coachella has the most bands and the second least expensive cost per band. This again compliments the festival's ability to have big acts such as Drake and AC/DC, but not have them overshadow the rest of the festival atmosphere.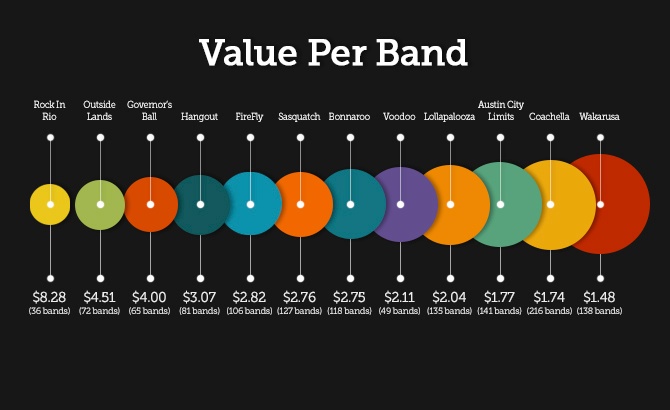 Austin City Limits follows closely behind at $1.77 per band, while also having the heavy headliner influence from above. ACL has the second most bands of the selected festivals, which adds overall value to the festival that has big main acts.
Voodoo Experience, a New Orleans-based festival known for its eclectic lineup, has a much smaller roster than its competitors, with just 71 acts on the bill. But with a $150 for a general admission ticket, the $2.11 cost per artist boasts a pretty solid value.
[embedit cf="HTML1"]