The beat goes on for the Golden State Warriors, who triumphed over the Oklahoma City Thunder in Game 7 of the Western Conference Finals Monday night to cement their spot in the 2016 NBA Finals. They'll face the Cleveland Cavaliers on the NBA's biggest stage for the second consecutive year, and it will be no cheap affair to attend an upcoming game in either Oakland or Cleveland.
In fact, 2016 NBA Finals tickets are the most expensive tracked on the secondary market since at least 2011.
According to TicketIQ, the average resale price for this year's seven-game series is currently $1,582.38. No other Finals over the last six years has exceeded the $1,500 average mark. Last year's Championship Round between the Warriors and Cavaliers was previously the most expensive at an average ticket price of $1,486.75 across its six games.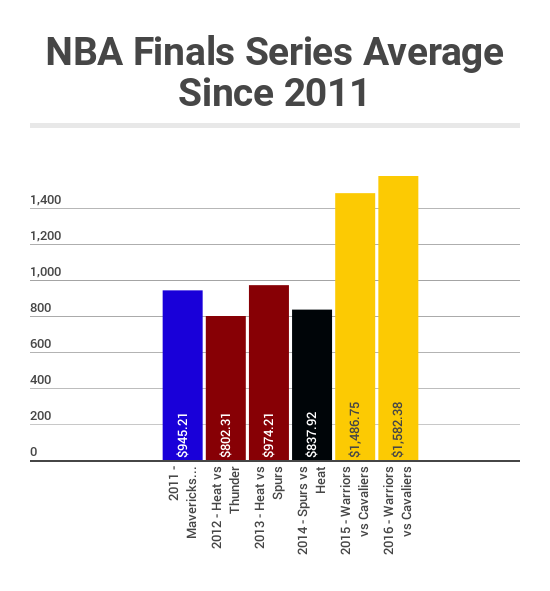 Expect to pay big ticket price premiums in both Oakland and Cleveland. Over the four potential home games at Oracle Arena, Warriors Finals tickets now average $1,722.04. Each game in Oakland surpasses the $1,000 average, with Games 1 and 2 averaging a $1,455.09 and $1,541.91 ticket, respectively. Should the series extend to a Game 5 on June 13, tickets will average over $1,700. A potential Game 7 may be the most expensive Finals game ever recorded on the secondary market should it come to fruition, with tickets nearly averaging $2,400.
It will be cheaper to attend games in Cleveland, but fans will still be paying up for tickets on the secondary market. Across all three possible games at Quicken Loans Arena, Cavaliers Finals tickets are averaging $1,111.76. The cheapest game there will be Game 3 on June 8, where tickets own a $939.94 average and $362 get-in price. It is the only game of the 2016 NBA Finals that falls below the $1,000 average.
The Warriors are seeking their second straight championship and fifth in franchise history. They led an improbable comeback against the Thunder in the Conference Finals, coming back from a 3-1 series deficit to clinch a berth in this year's Finals. With LeBron James at the helm, the Cavaliers have also booked their second straight trip to the Finals and will get another crack at Stephen Curry and Co. in hopes of bringing Cleveland its first title since the Browns' NFL Championship Game win in 1964.