Western Conference Finals Games 40% Cheaper in OKC Than in Oakland
There was no offensive hangover for the Golden State Warriors in Game 2 of the Western Conference Finals Wednesday night, as two-time MVP Stephen Curry returned to form to lead the Warriors to a convincing 118-91 win at Oracle Arena. The series now shifts to Oklahoma City knotted at one game apiece, and while fans look to will the Thunder to a 2-1 series lead, those heading to Chesapeake Energy Arena for Games 3 and 4 will find considerably cheaper ticket prices on the secondary market than fans who attended Games 1 and 2 in the Bay Area.
According to TicketIQ, the average resale price for Thunder tickets at home during the Western Conference Finals, which includes Games 3, 4 and a potential Game 6, is now $562.58. That is 39.5% cheaper than Games 1, 2, 5 and possibly Game 7 in Oakland, where Warriors tickets average $785.08 over all four games.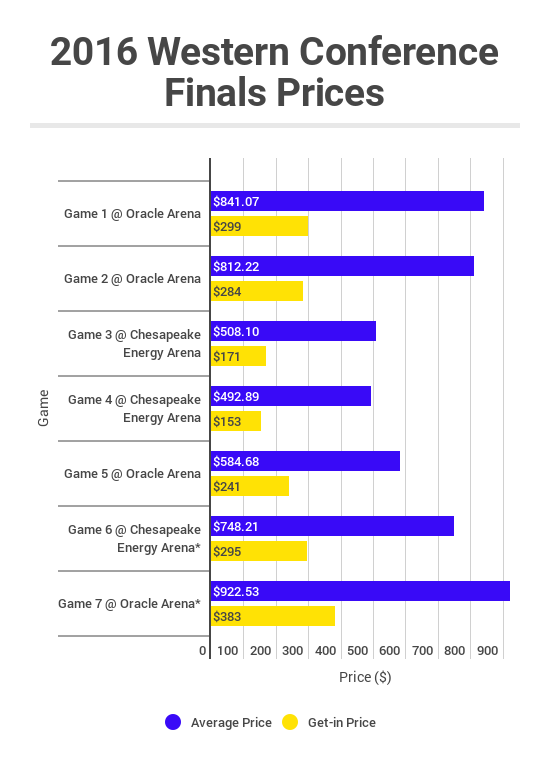 Game 4 on Tuesday will be the cheapest game of the series, with tickets currently averaging $492.89 and the get-in price starting from $153. Excitement to see the Thunder play in their first Conference Finals home game since 2012 is likely boosting demand for Game 3 Sunday night. Tickets for the opening game in OKC now own a $508.10 average and the cheapest ticket is listed from $171.
With the series set to go at least five games, ticket prices will increase back at Oracle Arena for Game 5 next Thursday. Warriors tickets at Oracle Arena own a $584.68 average on the secondary market, marking a 18.6% climb from Game 4 in OKC. However, the most notable price boost will be for those just trying to get past the gates, as the cheapest ticket is going for $241 - 58% more expensive than Game 4's $153 get-in price.
Potential Games 6 and 7 will be the most expensive games in both cities, with the average price for each game exceeding the $700 threshold. Game 6 Thunder vs Warriors tickets own a $295 get-in price. Should the series return to Oakland for a decisive Game 7, the cheapest tickets are currently going for $383.
[embedit cf="HTML1"]