One of the biggest early season NHL stories has been the success of the expansion Las Vegas Golden Knights. Not only are the Golden Knights off to a 3-1 start, but they also rank in the top ten of the most expensive average prices on the secondary market according to TicketIQ, the company I founded. Through two games, they also rank second in percentage of arena filled at 103.2%, which includes standing room. At that rate, they're .1% ahead of the Toronto Maple Leafs, one of the most historic NHL franchises, with the hungriest fan base. If the Golden Knights can maintain anything close current attendance and demand levels, their sports-gambling-friendly approach may do more than just help the NHL solve the 'warm weather problem'. In the face of larger screens and threats like virtual reality, it could be the biggest boon to event attendance since the advent of the dome.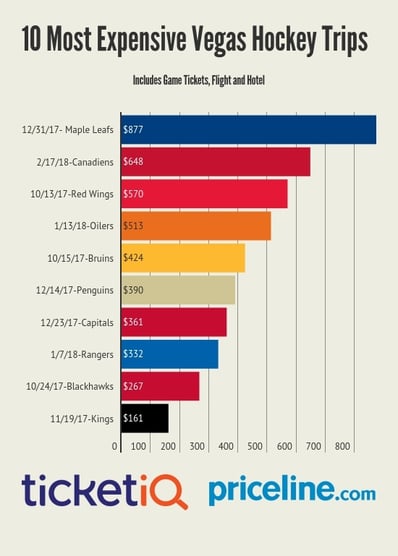 Vegas odds-maker give the Toronto Maple Leafs the third-best chance to reach the finals. Behind Auston Matthews, one of the NHL's biggest young stars, Maple Leafs Nation is as excited as ever and hoping to break their 50-year drought. Golden Knight Nation has literally no expectations and odds-makers give the team an 80/1 shot, ahead of only four other NHL teams. Despite the lack of expectation, that's one spot ahead of the Nashville Predators, a team coming off of their first-ever Stanley Cup Finals.
As a point of comparison, the NHL's other desert team, the Phoenix Coyotes have long been the poster child for struggling, warm weather NHL franchises. Since moving from Winnipeg to Phoenix in 1996, the Coyotes have had as many division championships as bankruptcies and have only advanced past the first round of the playoffs once. Even with a Stanley Cup and two conference championship, though, the Carolina Hurricanes have also struggled to fill seats.
When it comes to warm weather attendance for Hockey, while winning doesn't guarantee a packed house every night, it's the most sure-fire formula to fill seats. Last year, the Hurricanes filled 63% of their seats compared to 95% in 2006-07, which was the year after the won their only Stanley Cup. For the majority of professional teams, though, the odds of winning are not in their favor. The NBA has become an oligopoly and, despite occasional an occasional break through by teams like the Royals, baseball remains an arms race where the majority of teams can't consistently compete. Off the field, it's also becoming increasingly hard for teams to keep up in the fast-paced race for consumers attention and dollars. Amidst those inexorable forces, Gambling may be their great equalizer.
In an interview last month on Bloomberg, Washington Capitals Owner Ted Leonsis said the next big growth area for media team owner will be gambling. Through his company, Monumental Sports, Leonsis has invested in a European company called Sportradar, which he describes in the same interview as 'having deep ties to integrity assurance in the gambling world'. With the endless possibilities that could come from the opportunity for in-venue betting, 'integrity insurance' sounds like a good bet for the future.
For the present, thanks to the Professional and Amateur Sports Protection Act of 1992 (PASPA), sports book betting is limited to four states: Nevada, Oregon, Montana, and Delaware. With the launch of their season, the Golden Knight are now the only professional team that plays in one of those states.
Almost $500 billion is bet each year globally, which makes it about as big as the advertising market. According to global gaming research firm, Global Compliance, close to $100 billion is bet on pro and college football alone in the United States. While owners are excited about the prospects, politicians should be as well. As our country struggles to imagine what the future of jobs will look like, it's an opportunity that can't be ignored by politicians and team owners alike.
Despite the current limitations on sports betting, gambling and sports are cozier than ever. Six NFL venues have a casino within one mile and over half are less than ten miles from the tables and slots. While none of those have a sports book, there is an active effort to overturn the PASPA.
Since 2015, six states have considered sports betting bills, including Indiana, Minnesota, Mississippi, New York South Carolina and Texas. No state has been more active, though, than New Jersey. Led by Chris Christie, the state is currently appealing to overturn PASPA in the Supreme Court. If New Jersey wins the case, it could usher the biggest structural shift in event attendance since the Astrodome opened in 1965. If dome made weather a non-factor, gambling has the potential to make the teams a non-factor. As a fan, no longer will you need to actually have a life-long rooting interest to invest hundreds of dollars to see sports live. With a relatively small (or very large) financial commitment, you can be invested in the outcome just as passionately as the most diehard. Whether your investment objectives are simply making your money back on the tickets, or something more aggressive, there's no question gambling will have an inexorable impact on how and why people attend live events in the future.
Historically, the appeal of of live events has been anchored around our need for community and fans attending the event are generally interested in one outcome. In a world without PASPA, every fan could have myriad self-interested outcomes, based not just on the game, but also on every single play. While offshore companies like 5Dimes have dominated the Live In-Play Wagering lines, it's also an option in Vegas, through William Hill Race and Sports book.
In addition to playing at one of 100 full or self service kiosks throughout Nevada, William Hill also allows fans to use their app to place bets anywhere, but only after they've deposited money at a physical location. This week's menu of InPlay options features hundreds of domestic and international events, including one Golden Knights home game at T-Mobile arena. For the first game, the house lost big. According to William Hill spokesman, the first Vegas Golden Knights game was their biggest loss ever on a hockey game and stretched to six-figures. While the majority of those bets were placed before the puck dropped, it did include live InPlay betting through the app, which allowed people to bet on the Over/Under, Goal Line, Money Line as well as goals per period. After an emotional opening ceremony that paid tribute to the 58 people lost in worst mass shooting in American history, the Golden Knights came out Vegas strong, scoring less than three minutes into the game. It would have been an opportune time to take over, as they scored again 1:47 later on their way to a 5-2 win, well above the 5 over/under line.
In addition to playing catch up to last 10 years of technological advancement, the looming threat of Virtual Reality has forced major league owners to consider more aggressive ways to differentiate the live experience. With the birth the Golden Knights, gambling is now officially part of the consideration set. As it's role increases in the years to come, first-mover leagues and teams will generate more revenue and fill more seats than laggards. Given the size of country's betting habit, it's only a matter of time before sports provides opportunistic fans the opportunity to win and lose, just like the players. As for real fans, they can only hope that the teams and leagues that get there first invest this new-found money into talent. Those that do will have the best odds of delivering the one thing that will always fill seats: winning.