Fresh off a three game winning streak, the Dallas Cowboys may be the most recession proof team in the league when it comes to ticket prices.
Win or lose, Dallas Cowboys ticket prices hold steady, a notable feat in an NFL season that has seen its fair share of controversies. Cowboy's owner Jerry Jones is even threatening a lawsuit against the NFL to block the league from handing out a contract extension for commissioner Roger Goodell.
Half way through the season, with 3 loses, the Cowboy's have already dropped as many games they had in the entire 2016 season. Still, Cowboy's tickets on the secondary market are up 31 percent from last season, according to TicketIQ data.
Cowboy's tickets are up 4 percent since the start of a season, with the average prices now reaching $406 on the secondary market.
The Cowboys have also lost their star running back Ezekial Elliot, for the next six games, following a minimum four game suspension, that was handed out before the season started after violating the leagues personal conduct policy. Elliot is currently tied for first in rushing touchdowns with 7, and just 8 shy of leading the league in rushing yards.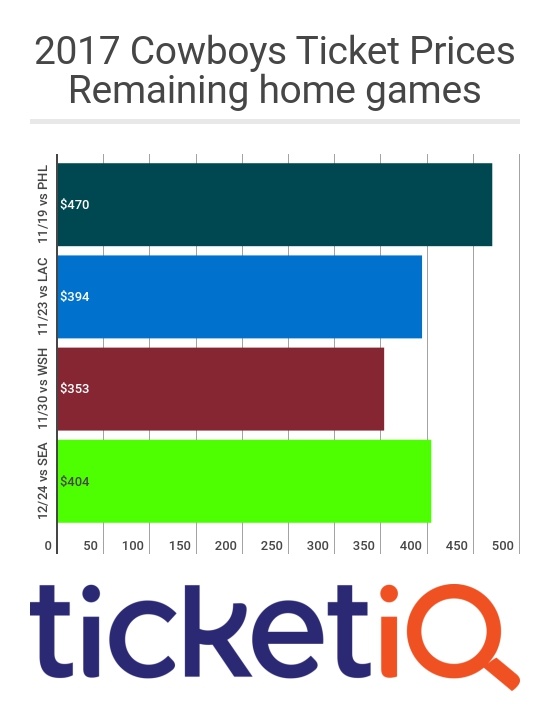 Dallas will face its biggest test of the year in 2 weeks, when it takes on division foe Philadelphia Eagles, at AT&T Stadium on November 19th. With a league leading eight wins, The Eagles are among the favorites the Superbowl, with current odds at four to one. The Cowboys odds to go all the way currently sits at 16-1.
Average ticket prices for the heavily anticipated match-up are going for $470 on the secondary market, with the average get-in price currently at $214. Below are details on all remaining Cowboys games. The get in price for Standing Room Only tickets are $67. You can check out tickets for all four reaming Cowboys home games below:
[embedit cf="HTML1"]