Jay-Z 4:44 Tour Prices Down 25% With Lots of Tickets Below Face Price
Jay-Z 4:44 Tour Ticket Prices Update as of November 3rd.
For fans looking to see Jay-Z on the cheap, there's no time like the present. For the rest of the tour on the 4:44 Tour which runs through December 21st, only one show has a get-in price above face value. For mant
There are currently 39,000 tickets on the secondary market across the tour, up 129% from 17,000 when the tour was announced in July.
The average asking price across the tour is $194, which is down 24.5% from $257 when the tour was announced in July
As a comparison, Jay-Z's last solo arena tour (2014) averaged $180 and Beyonce's last solo arena tour (2013) averaged $294
In Brooklyn, the 26th date is towards the higher end of his history there while the 27th is towards the lower end. In LA, for the December 21st show at the Forum is it's the 2nd cheapest get-in prices LA history we've tracked. The average price is $224 with cheapest ticket at $34.
Below is a chart on each of the remaining shows. Tickets are available via TicketIQ, which has a Low Price Guarantee on over 25% of listing for the tour.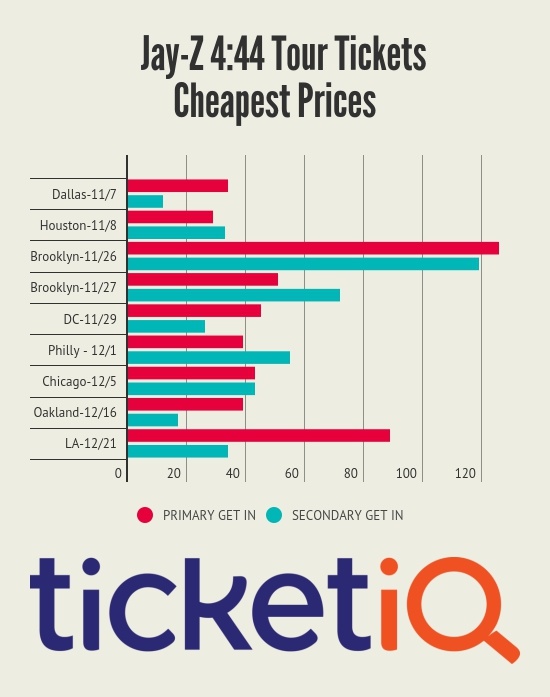 About TicketIQ: TicketIQ connect Fans Directly with ticket sellers to provide the lowest prices in the market, all with no extra fees for the consumer. Read more about our Low Price Guarantee Here.