Coming into the 2017-18 season, and following their trade of Paul George, most experts weren't very high on the Indiana Pacers. However, after 30 games they look like they're proving a lot of those people wrong. At 17-13 the Pacers are 4th in the Eastern Conference, and thanks to Victor Oladipo's fantastic start, look like the clear winners of the Paul George trade. With their surprise start, demand for secondary market prices for the Pacers tickets are starting to rise and when big-name teams visit Bankers Life Fieldhouse, tickets are at a premium.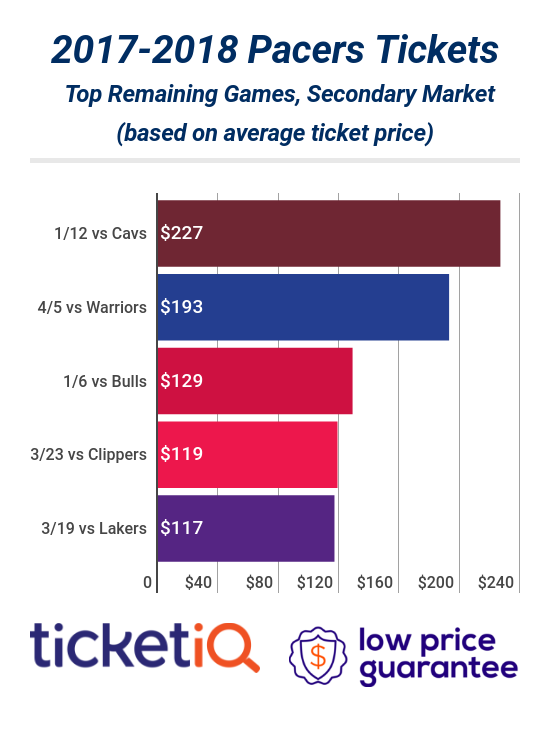 Geographically speaking, one of Indiana's biggest rivals is the Cleveland Cavaliers and given that the Cavs have been a fixture in the NBA Finals for the last three years, tickets are priced accordingly. On TicketIQ.com, the most expensive game of 2018 will be the Cavs at Pacers on Jan 12. As of Dec. 18, the average asking price for a ticket to that game was $227 – which is $30 higher than the next most expensive matchup.
That $30 difference is a big gap, especially when you consider that it's for a game against the defending NBA champion Golden State Warriors. The average asking price for the April 5 game is currently $193.
The price of the next three most expensive games drops significantly from there – the average asking price for the Jan. 6 game against local rival Chicago is $129, against the Los Angeles Clippers on March 23 is $119 and against the Los Angeles Lakers on March 19 is $117. None of those teams have a winning record.
If you want a chance to see a Pacers game in person this season, TicketIQ.com can help. As of Dec. 18, among TicketIQ.com's Low Price Guarantee listings tickets to see the Golden State Warriors game on April 5 were available for as little as $97 at the tippy top of the arena in Section 228 and top out at $913 for a fifth-row seat at center court behind the teams' benches in Section 5.
[embedit cf="HTML1"]